Whether for business or commercial buildings, pressure washing is an extremely useful technique for a thorough and deep cleaning. If you have never used a pressure washer, you may not be fully aware of all the benefits the tool can bring. Be it dust, dirt, grime, mold, moss, or algae, you can easily get rid of all of this using the pressure washing method. Unlike regular washing, pressure washing services are designed to blast out all the dust and dirt in a room or area including even that residue that remains hidden from our sight. A pressure washer can reach deep into tiny nooks and gaps and deliver a thorough and high-precision cleanup.
However, it is easy to make mistakes while using a pressure washer. It is always best to seek the help of a trained commercial cleaner for pressure washing. Interworld Cleaning is a highly trusted cleaning company that provides high-quality pressure washing services in and near Baltimore, MD.
Here are five common mistakes that should be avoided by pressure washing services to get the best cleaning results.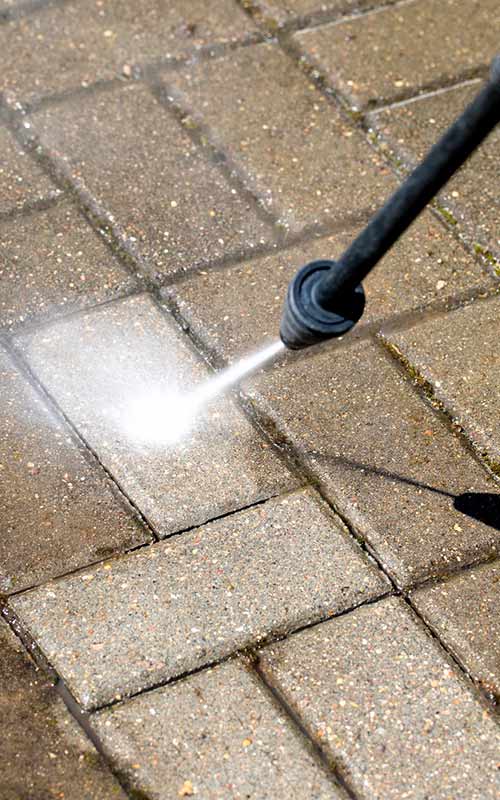 Mistake #1: Not Setting the Correct Angle
Before pressure washing starts, the technician should correctly angle the spray. As per the specific needs, one can set the angle in different ways. It is crucial to first determine how the spray should be angled in order to perform proper cleaning of a surface in an office, workspace or building.
What angle will be perfect depends on the material a surface is made of. If the surface is wooden or concrete, the professional should angle the spray in a way that takes out all the dust and dirt. If the angle is wrong, the dust and dirt will go deeper instead of coming out. As a result of this, cleaning will not give you the result you expect and time will be wasted as well. In addition to setting the spray at the right angle, the cleanup specialist will also need to move the spray head in order to pressure-wash an area or surface from multiple directions.
Mistake #2: Not Cleaning in a Logical Order
When it comes to pressure washing, the cleaning should be done in a logical order. If it is done in a random order, the requirement for cleaning will arise again because dust and dirt will flow and gather in the passageway. When doing it on their own, many commercial building owners make this mistake, and then they have to perform cleaning all over again, which takes more time.
If you hire commercial cleaning services, the cleanup specialist will carry out the entire pressure washing project in a logical manner, going from top to bottom. In fact, this is an important rule for fast and proper cleaning. At Interworld Commercial Cleaning Company, we have a team of highly trained cleaners who perform commercial pressure washing starting with the roof and the walls. Then the professional will pressure-wash the floor and other surfaces as well as all the windows.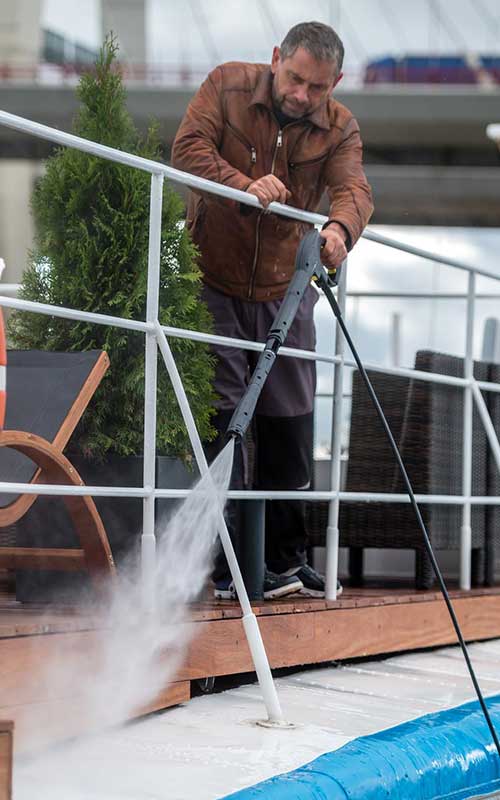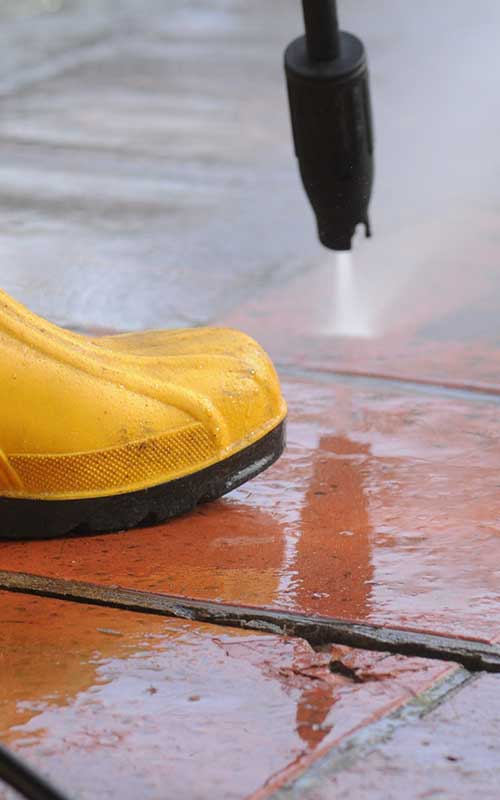 Mistake #3: Using Too Much Pressure
Pressure washing is all about using the right amount of pressure based on the type of surfaces you are trying to clean. Many times, people use a pressure washer in the wrong way by using a great deal of pressure.
Using an excessive amount of pressure can damage a soft and elegant surface. When you hire a professional, he or she will first test the pressure washer and see how much pressure it creates. Based on specific needs, a commercial cleanup specialist will keep the right distance between the wand of the device and the surface so that the amount of pressure does not exceed.
Mistake #4: Directing the Spray Upward into the Siding
Pressure-washing the siding of a room or office is a key challenge. Those who have never done this type of washing or lack experience can easily hurt themselves in the process. When pressure-washing the sides, it is crucial not to spray from below, as this will push water into the gaps. Also, never use a ladder because the kickback from pressure washing can make you go down. Professionals will perform pressure-washing the siding while remaining on the ground, but they use a solid extension wand to put pressure in the right direction.
If you plan to avoid injuries and get the most out of pressure washing, you should hire professional cleaning services.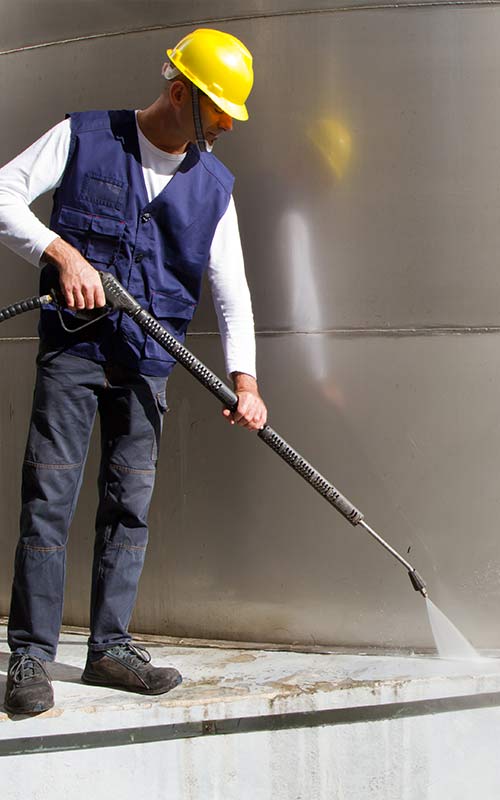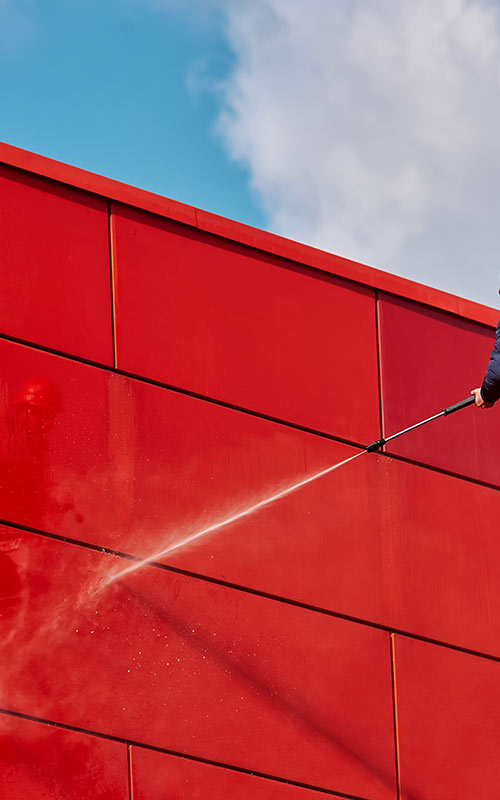 Mistake #5: Chipping Off Paint
Pressure washing can cause damage to some types of paints. Due to excessive pressure, paint can also start to come off. Before the cleaning begins, it is crucial to know whether the paint on the walls or other surfaces is water-resistant. Many DIYers make the mistake of using pressure washing on a painted surface and chip off the paint as a result. However, a professionally trained cleaner knows exactly how to use the device in a proper and correct manner.
Commercial pressure washing is a task that should always be done by highly trained cleaners such as those from Interworld Cleaning, which provides a host of professional cleaning services including pressure washing services in and near Baltimore, MD. Get in touch with us to get more details.
Plan to Hire the Right Pressure Washing Company?
Hopefully, you have understood that pressure washing is a highly technical type of cleaning that should be performed by specialists. If you end up hiring the wrong company for the job, it can lead to a lot of damage. Experience, skills, and expertise are crucial for carrying out this type of cleaning. If you are in need of professional pressure washing services, you should head over to Interworld Cleaning. Our company is one of the most trusted and experienced companies in different types of commercial cleaning services including commercial pressure washing.
For your free consultation, you can give our office in Baltimore a phone call or write us an email using the contact form on the website.