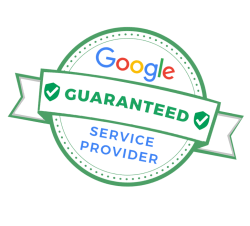 Green Cleaning Approaches
Insured, Licensed & Bounded
Environmentally Conscious
Amazing service. Always on time and never been cleaner! Highly recommend Interworld for your cleaning needs!
Great experience working with Interworld Cleaning Company. I called them for a quote for cleaning a recently renovated property.

I received a reasonable quote within two days and cleaned the house professionally. I highly recommend them and will definitely hire them again.
We have had Interworld Cleaning Company at Bunting Door for 2-3 years now. We had a rocky start, but they got it all figured out. Items are filled and if we notice something; it is taken care of the next cleaning or sometimes before. Give them a chance just make sure you are clear about where and what needs to be cleaned.
Our company has used Interworld for over a year and they are always prompt and thorough. Their pricing is not exorbitant and you get excellent follow-up and service for the price. We've been very happy with Interworld's service since we brought them on. Highly recommend!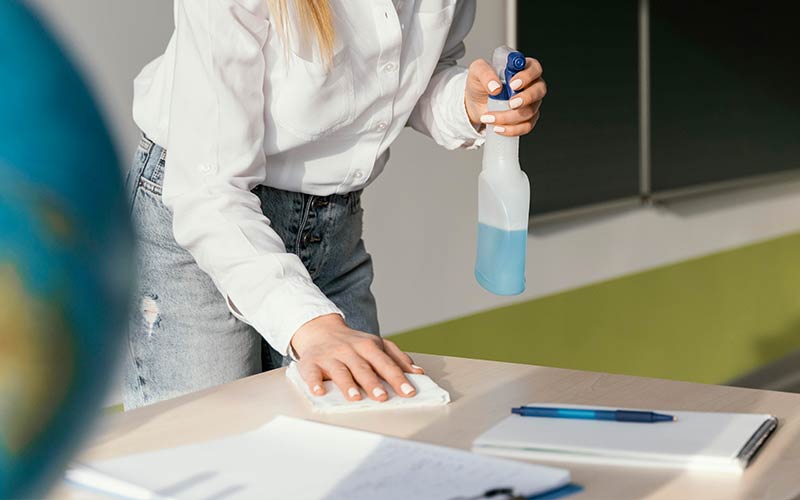 Why You Should Hire Our School Cleaning Services
Through our comprehensive experience, we have gained a sound understanding of the unique cleaning challenges faced by a school or academic facility. Unlike many other companies, we carry a deep passion to create a safe and healthy school environment for children and teaching staff alike.
Here is why you should work with us:
Adherence to the strictest US cleaning standards
Google guaranteed services

Expertly trained cleanup teams
Multiple layers of supervision

Use of green-certified cleaning products
Interworld's School Cleaning Services Include:
We follow a well-defined procedure to perform school cleaning. This ensures our cleanup specialists do not miss out on something other companies may miss or skip. While we focus more on high-traffic areas, we clean and disinfect every single space, spot, and corner in a school building.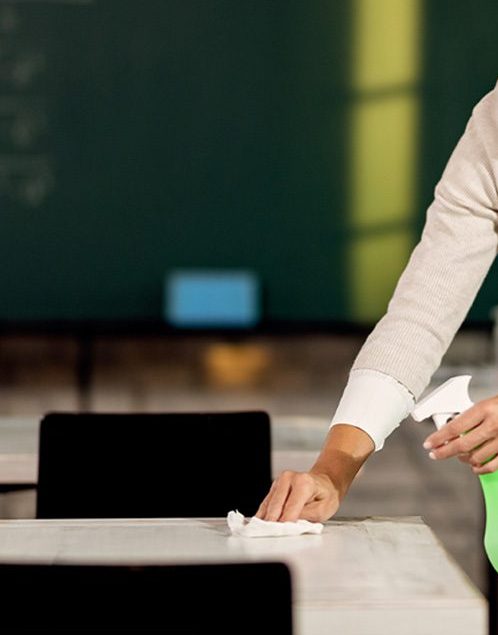 Cleaning the entrance, hallways, and lobbies

Cleaning and disinfecting the school offices

Cleaning and disinfecting all the classrooms

Dust cabinets and bookshelves

Vacuum carpeted floors and mop laminate floors

Sweep, mop, and vacuum all floors

Damp-mop hard and resilient floors

Clean and dry sinks and counter surface areas

Wipe doorknobs and other high-touch surfaces

Report items that require repair
Why Is It Important to Hire a Professional School Cleaning Service?
Cleaning a school building is a serious job. Since it is about protecting children against different types of infections and illnesses due to a lack of cleanliness and hygiene, you should only hire a professional school cleaning service to perform the task. Given below are some of the most important reasons why you should seek the help of a cleaning company.
Providing a Healthy Atmosphere for Students and Staff
Not only does a school have a large number of children, but it also has a number of teaching faculty and staff. Therefore, it is extremely important to ensure a clean, healthy, and safe environment for everyone. 
If you plan to create a neat and hygienic environment in your school or academic facility, you should hire a professional commercial cleaning company. School cleanup specialists are highly trained in carrying out the cleaning and maintenance of a school in an effective manner. These experts use a variety of cleaning products to eliminate all the harmful germs and bacteria that might be thriving in different areas of the building. 
If your school is located in and near Baltimore, you should get in touch with Interworld Cleaning to hire professional cleaners, thereby ensuring a clean and healthy environment for your students and staff.
The School Becomes a More Welcoming Place
A school should always remain clean and well-maintained. A dirty school environment will affect the health of children. Plus, it will leave a terrible impact on parents who send their children to your school. No parents will want their children to study in a school or academic facility where the environment can cause health issues. If you want to grow and attract more children, you should pay serious attention to cleanliness and make your school a welcoming place.
With the help of our trained and skilled cleanup experts, you will find it easy to keep the entire building of your school neat and tidy. Our professionals will perform the whole task in a proper manner so that children study and play in a healthy environment and every area of the school looks great.
Since we possess several years of experience cleaning schools, you can always rely on our cleanup teams for an excellent experience.
Productive Environment
A dirty, polluted, and contaminated work environment takes a toll on the productivity of the employees. You can never expect your employees to deliver their best if they are unhappy and stressed. 
If you plan to increase the productivity of your employees, you should pay serious attention to the maintenance of your facility. Proper cleaning will increase the efficiency and productivity of the employees. Our commercial cleaning services will surely help you improve your workplace environment. A clean and tidy work environment will help you get more done in less time and increase your success.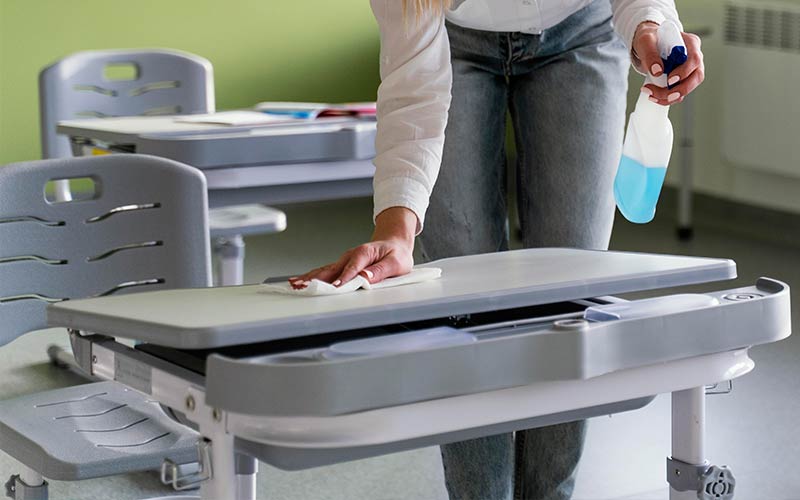 How We Can Help You Have a Healthy and Safe Educational Environment
Interworld Cleaning is an ideal company to work with when you plan to have a neat, clean and healthy school environment.
First, we review the unique cleaning needs of your school or academic facility. Based on your specific needs, our cleanup specialists will develop an effective plan for fast and accurate cleaning of the entire building.
We will start with the basic tasks and then move to every section of the school. Our school cleanup experts will properly clean and disinfect every area, floor, and surface of the school. Our cleaning team will clean every space with meticulous attention to detail, whether it is the main entrance, lobbies, classrooms, offices, restrooms, break rooms, or other areas. Since we have multiple layers of supervision, you can feel confident that the cleaning task will be completed with a high level of accuracy without missing out on any floor or surface.
Our School Cleaning Service Areas
Need a Professional School Cleaning Service In Baltimore? Get in Touch with Us for More Details.
Interworld Commercial Cleaning Services specializes in cleaning and disinfecting schools and academic facilities while employing modern technologies, safe cleaning products, and the right set of cleaning tools. Our experts will develop customized solutions to meet your specific cleaning challenges. 
To schedule your free school cleaning consultation, give our office a phone call or write us an email using the contact form.