Commercial cleaning is an essential issue for businesses, and companies can leave a good impression through that. When potential customers experience the cleanliness of your commercial property, they will be more interested in your services. Cleaning comes before disinfection and sanitization, and things like dust and debris must be removed to pave the way for the best function of disinfection and sanitization. Some viruses and bacteria will remain after cleaning, and a thorough disinfection and sanitization can remove them altogether. Commercial cleaning services can professionally do the disinfection and sanitization due to the availability of modern equipment and experts.
A clean and sanitized workplace reduces health hazards
Your staff will feel more secure when you clean and declutter their workspace. Daily cleaning in line with sanitization and disinfection will eliminate germs and bacteria and prevent the spreading of some specific diseases in your company. These daily cleaning activities will bring peace of mind to employees and increase their productivity. In addition, bacteria can be multiplied on surfaces that need to be sanitized, which means an unhealthy condition for everyone working in that company.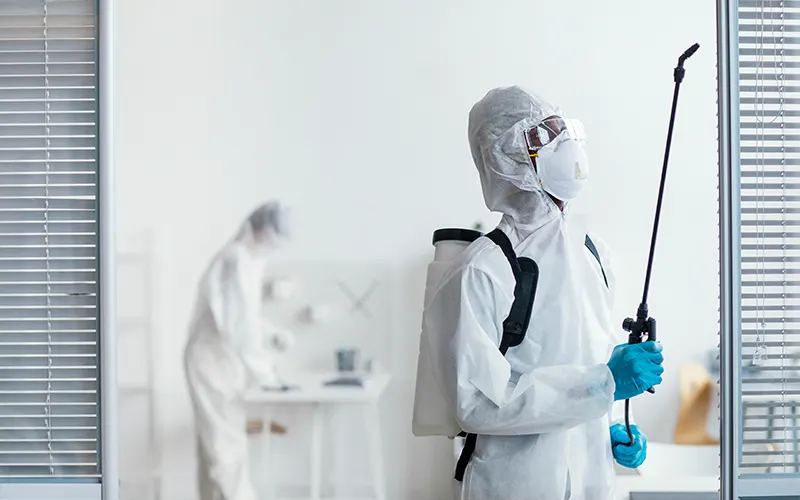 Some benefits of disinfection and sanitization for businesses 
Cleanliness can be beneficial for companies in various ways, and when it is combined with correct disinfection and sanitization strategies, the following advantages will appear: 
Client confidence
Clients must feel safe in the environment of businesses and be sure about the health of their surroundings. The perception of this security within the environment can create a joyful experience for them. 
Labor productivity 
This feeling of safety also benefits company employees and increases productivity in different areas. A safe and healthy environment will help the laborers focus well on their tasks. The employer's attempts to create a positive workplace represent the company's dedication to the general well-being of the staff, a primary feature that affects everything in the company. When some qualified technicians disinfect and sanitize the working area regularly, the team will be aware of their employer's concerns, and it means much more productivity.
Successful time management 
Sanitization and disinfection through commercial cleaning companies will lead to better time management for employees of your business. In this case, the employees are not worried about health concerns, and the operations go smoothly. So you will save the time and energy of your staff by giving the sanitization and disinfection tasks to professional companies, and it will also mean better time management in your business.
Are you looking for commercial cleaning services in and near Baltimore, MD? Our commercial cleaning company is the best choice. We offer quality disinfection services to our esteemed clients so they can feel safe in their work surroundings. The combination of experience, expertise, and modern equipment makes us unique in the industry. We use state-of-the-art technology in our cleaning services to bring peace of mind to our clients. Our history is a telltale sign of our performance, and it confirms the commitment of our team. Contact us right now to join a revolution in cleaning services.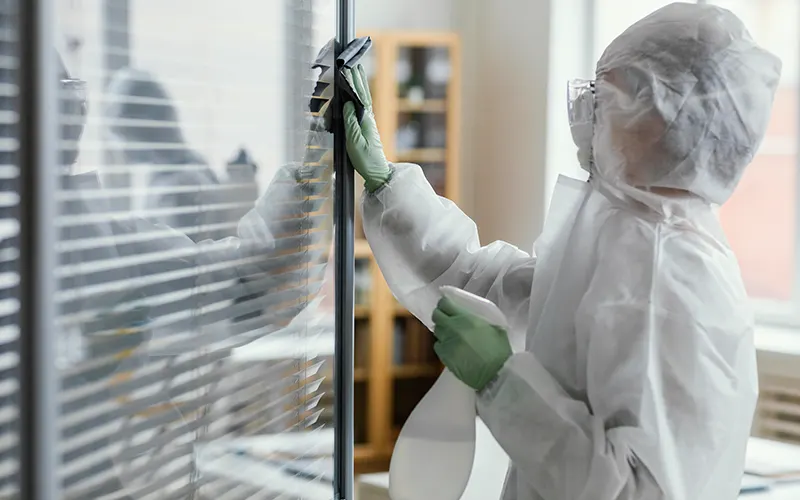 The fixtures will last longer 
Various fixtures are available in commercial places that need careful maintenance to keep them looking nice. Regular sanitization and disinfection by professionals will add to the longevity of these pieces of equipment. A clean and sanitized workplace looks more professional and attracts many more customers. 
Protection of systems 
Companies and commercial places usually have multiple systems like heating, ventilation, and more. As a business owner, you certainly want to maintain these systems in good and healthy condition. Cleanliness of the environment in line with sanitization and disinfection will help you maintain the systems much better. Professional cleaners have the knowledge and experience to care for these facilities and keep them free from dust and contaminants. 
Reducing stress 
Encircled by filth and dirt in your workplace can be highly frustrating. Regular sanitization and disinfection will reduce this stress to a large extent, and you won't see mold and mildew around your working place, which is relaxing. The odor in your working environment is only so good with disinfectants and sanitizers. You can improve the smell of your company by sanitization and disinfection and make a cleaner and more pleasant environment for your staff and customers. A dirty company with an unpleasant odor will tarnish your reputation and decrease your customers because health is everyone's concern in the post-pandemic era.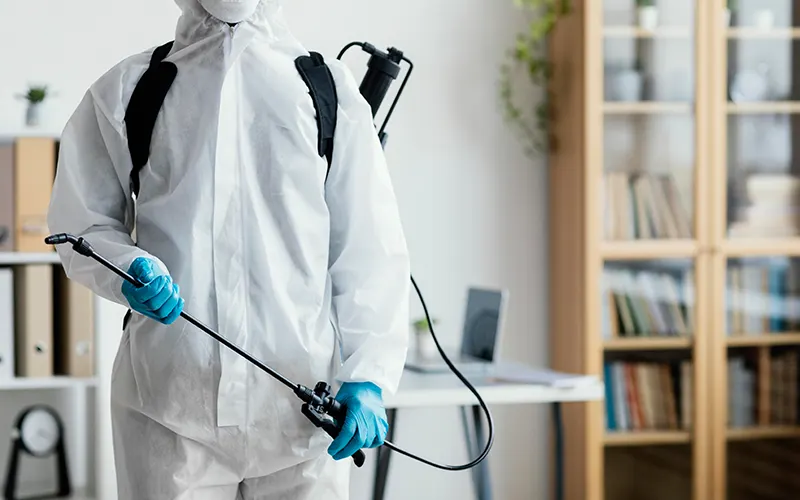 Remember to hire professional cleaning companies 
Professional companies use the best cleaning products and sanitization methods to keep everything clean on your premises. Their standard disinfectants will kill various stubborn viruses and bacteria and increase the effectiveness of disinfection. Sanitization and disinfection are beyond some deep cleaning tasks that individuals usually do, and if professionals do them, surfaces will be sterile and free from health risks. Furthermore, professional companies have all the required equipment to make your commercial space a healthier environment. Fortunately, the services provided by professionals are budget-friendly, and you can choose tailored packages that match the requirements of your business. So, disinfection and sanitization through professional companies can help your business grow in multiple ways. A clean environment will help the staff be relaxed without concern about health hazards. 
Are you considering commercial cleaning services in and near Baltimore, MD? Our commercial cleaning company is the solution. We provide sanitization and disinfection services to our valued clients, our company's natural assets. Years of experience and hard work make our commercial cleaning services unique and one of a kind. We are looking for customer satisfaction; we at Interworld try our best to keep the clients pleasant and happy about the services. Affordability is another primary feature of our company; we have packages for every budget. Our professionals are always ready to answer your questions and resolve your cleaning issues at your residential and commercial place. Contact us right away to feel the difference and get what you deserve!