As the saying goes – A picture is worth a thousand words – and think about the picture that your office floors paint for incoming clients. The majority of offices will have some type of tile flooring on their heavily trafficked areas as they are easy to clean and renew the glossy "wet look" with the proper equipment.
There are several methods utilized to restore the beauty of your tiles.
You can strip all the existing wax down and re-apply the 4 to 5 coats of wax recommended, this is a dirty job and is time-consuming.
Another method is to use a low-speed scrubber to remove the top layer of wax so that a new glossy coat appears. However, that runs the risk of embedding any loose particles into the wax or the tile itself.
We are going to inform you and explain why spray buffing is an important element in keeping up the maintenance of your tiles.
Spray Buffing Your Floor
In this process you spray the floor with the solution onto the area you are going to work on first.
Be sure that it comes out as a spray and not a stream to avoid build-up on your pads. Making two passes with the machine over your sprayed area will repair much of the scratches and scuffs that come with wear and tear in any highly trafficked area.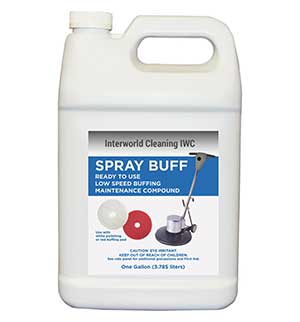 This is a relatively fast process when it comes to providing your floors with an extra service. Not only does this leave your floors with a "wet look" and a visible glossy glare it improves the durability of the floor finish while not removing much if any of the existing finish.
Think of the picture you will paint for your customers when they come in and see a glossy beautiful floor, first impressions are key to any business dealings and your floors are one of the first things that are noticed. Instead of having a scratched and scuffed floor you now have a revived floor with no blemishes.
We recently had a customer who manufactures car axles, you can imagine how much grease, grime, and traffic flows through their showroom and office space. I informed him of all the options for floor cleaning services and he choose to spray buff for its cost-effectiveness.
While ideally, we recommend stripping and waxing because we don't know what the previous flooring company put on the floor. We performed the service one evening after hours and the next morning I came in with an email waiting in my inbox from the store owner. He was extremely happy and impressed with the results and overall process and will surely use this as a maintenance practice. Not only is this important for your clients but it's also a morale booster for your employees who will notice that you are taking care of the little things so they can take care of the big ones which lead to success.
With winter knocking on the door this is an ideal time to schedule your floor cleaning service.
Spray buffing is a cost and time-effective way to keep your floors looking great as there is very little product that is being used (as opposed to other methods) which allows for you to provide regular maintenance of the floors.
Is your business in Baltimore, MD in need of professional floor cleaning services? You can trust our commercial cleaning company.
Contact us right away to enjoy the best commercial cleaning services in the industry!  and we will be happy to further explain the benefits and show you the results of a well-maintained spray-buffed floor. Then after the service – your floors will paint the picture of success for your clients to see!