A clean-looking service area provides a healthy environment for your business. Even though you pay attention to the floors, doors, and windows of your commercial premises, cleaning ceilings is an area that often gets neglected. The primary reasons for ceiling cleaning getting neglected can be attributed to the lack of proper cleaning equipment and the staff that knows how to operate them. Your housekeeping staff might not have the equipment required to reach to the ventilators and the corners of the ceiling of your service area. Besides improving the aesthetics, there are a number of advantages of getting your ceiling cleaned regularly by professionals, some of which are listed below: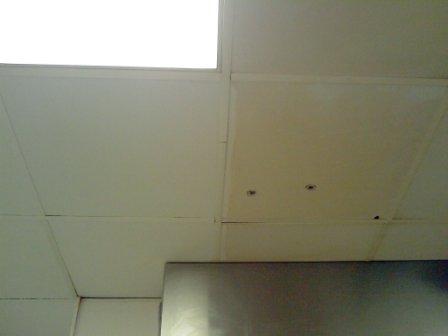 Cleans disinfects, and deodorizes 25% of the room which never undergoes professional cleaning
Improves lighting of the commercial premises by up to 60%
Extends the lifespan of your ceiling
Costs 50% to 80% less than replacement or repainting
Quick and safe operation, which can be carried out outside business hours without affecting your regular business
Ceilings can be returned to almost new condition 90% of the time.
In places like restaurants and kitchens, heavy soiling is concentrated at selected patches which get tough to remove once the dirt particles settle in. If not cleaned timely and periodically, the stains get stubborn and can weaken the structure besides spoiling the aesthetics of the premises. This is the reason why our clients opt for our commercial ceiling cleaning services on a regular basis – though we offer you the option of one-time contracts too. Our staff has years of cleaning experience and their task is supervised to ensure that our service quality is maintained. We focus on building long-term relationships with our clients and collect regular feedback from them to tighten up the loose ends if any. If you find our services lacking in any of the quality standards that we promise, we are just a call away on our hotline, which operates round the clock.
We at Interworld Cleaning understand cleaning better than anyone else. Interworld Cleaning has a combination of experience, expertise, and equipment to help you maintain a clean service area. Keeping in mind that cleaning is a specialized business rather than a general task, we offer you a number of cleaning packages to suit your cleaning needs. Our services are available in the areas of Baltimore, Washington DC, and Maryland. Whether you are the owner of a commercial, residential or industrial premise, we have a package designed specifically for you. Our packages are open to customizations to suit your ceiling cleaning needs, although extra charges might apply. We are ready to work with your property managers and work out the best cleaning schedule to ensure that your regular business is not affected. We use green products whenever possible without charging you anything extra for them. It is our way of protecting the environment and ensuring that we minimize the damage caused by harmful chemicals used for cleaning.
We have delivered high-quality cleaning services and satisfactorily served clients like AIMCO, Unilever, New City Construction, and many more.
Please call 410-800-2575 or click here to request a no-obligation Commercial Ceiling Cleaning quote now!