Why Commercial Cleaning Services Are Important
Keeping a commercial property clean is difficult. If you run a restaurant, hotel, bar, club, gym, fitness center, warehouse, movie theater, or other commercial properties, it is your duty to maintain and clean it in a proper manner. While you may feel tempted to get the cleaning done by your staff, it is not always the best idea. Cleaning an office, business place or commercial building requires a great deal of effort and time. Most of all, it requires the use of the latest equipment, tools, and techniques to carry out the entire cleaning project with high effectiveness. That is exactly what a commercial cleaning company does. With commercial cleaners by your side, you can feel confident that the property will be cleaned thoroughly and correctly and that your employees and visitors will remain healthy and safe.
At Interworld Commercial Cleaning Company in Baltimore, MD, we specialize in commercial cleaning services and cater to a wide range of businesses. Let us explain to you ten reasons why you should hire commercial cleaners.
#1. Clean Working Environment
An unclean workplace is an unsafe workplace. Whether it is an office, a store, or a commercial building, you should maintain its cleanliness in order to provide the staff with a safe working environment.
Poor or improper cleaning will make an office space prone to the growth of mold, germs, and bacteria. As a result of this, your employees can get different kinds of allergies and fall sick often. This will lead to delays in project completion and ultimately affect your company's bottom line. If you do not want this to happen, you should seek the help of commercial cleaning services.
#2. Better Productivity
For a business to succeed, employee performance is a crucial concern. That is why every business wants productive employees. One of the major ways to increase the productivity of your employees is by giving them a neat, clean, and well-organized space to work in. There is abundant data to prove how workplace cleanliness and workplace productivity are connected.
Turn your office into a second home for the employees. This will help employees to perform at their best. With more employee focus and more satisfaction, comes more employee productivity.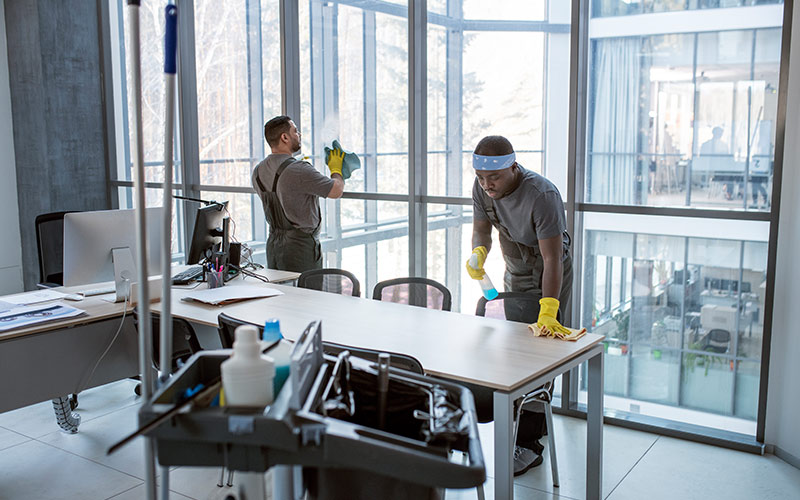 #3. Good First Impression
Every business wants to leave a good first impression on its clients and associates. But you need to work for it as well. You will leave a very bad impression if your office space looks unorganized and dirty.
If you are in search of commercial cleaning services in and near Baltimore, MD, head over to Interworld Cleaning. With our cleanup experts by your side, you will get the cleaning of all your commercial properties in a thorough manner and will leave a good, long-lasting impression on clients.
#4. No Risk of Theft
Unlike fly-by-night cleaning services, a professional cleaning company will have strict policies in place to follow for its cleaners.
By choosing to work with professional cleanup services such as Interworld Cleaning, you will not have to worry about problems such as theft. Our professional cleaners do not just deliver a thorough cleaning, but they also respect every asset and item that you have in the office, store, or building. Each one of our cleaners is hired after rigorous background checks to give you peace of mind.
#5. Happy Employees
A proper office cleanup delivered by commercial cleaning services is like a gift to the employees. Instead of delegating some of the cleaning tasks to your employees, hire a professional cleanup service and schedule the cleaning of your office, retail store, club, warehouse, restaurant, etc. When your employees step into a thoroughly neat and clean workspace every day, they will be happy. This will boost their morale and the employees will deliver their best performances.
#6. Free Up Storage Space
After you have hired a commercial cleanup company, you will not need to store any kind of cleaning supplies and tools. You can now get rid of everything that you had in the closet for the purpose of cleaning. The cleaning company will bring the entire range of equipment and products itself. So, your storage space will be free and can be used for storing other important things.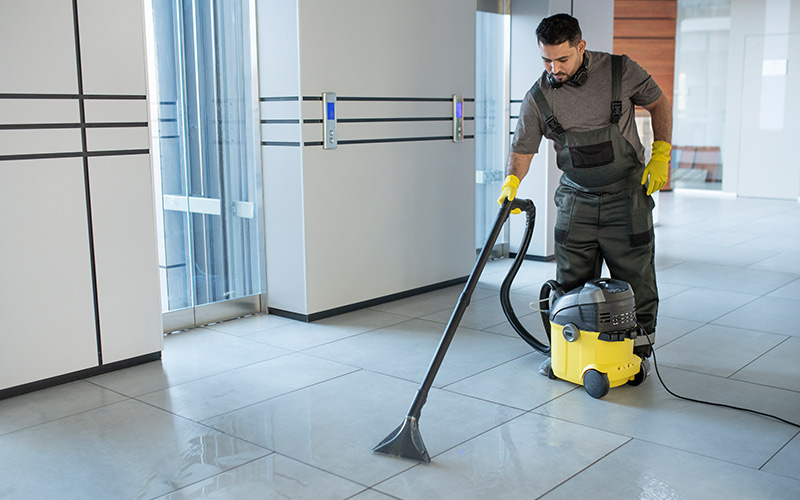 #7. Cost-Effective Cleaning
Generally, many businesses think that hiring commercial cleaning services will be very expensive. But this is not true. In fact, working with professionals will prove to be cost-effective. When you hire professionals, you will no longer need to invest in all those cleaning supplies and products. A professional cleaning company will arrive at your office or commercial building fully equipped and prepared to do the job. Ultimately, you will save money in the process.
Cost-effectiveness is one of the key commercial cleaning services benefits. To find out more, reach out to Interworld Cleaning, which provides commercial cleaning services in and near Baltimore, MD.
#8. Expert Level Cleaning
Just like you want to hire professionals for working on your company projects, you also need to hire trained cleaners. Amateurs or inexperienced people cannot carry out commercial cleaning. Even if you employ such people, you will only be disappointed with the results. Your office staff does not have expertise in cleaning as experienced commercial cleaners do. 
That is why one of the biggest reasons to hire commercial cleaning services is to get expert-level cleaning. Trained cleaners will use the right set of tools and methods to deliver a spotless clean.
#9. Save Time
Time is a precious commodity for every business owner. To increase your bottom line, you should concentrate on those tasks that you and your employees do best. You need to continuously work on your bottom line. Do not spend time carrying out the cleaning yourself. Instead, delegate it to a commercial cleaning service so that you can save a lot of your valuable time. 
#10. Advanced Cleaning
All cleaning projects are not the same. That is why professional cleaners receive ample training to perform all kinds of commercial cleaning without having any space for guesswork. Whether it is maintenance cleaning, restorative cleaning, or deep cleaning, trained cleaners can do it all. Most of all, professionals take a strategic approach to reduce the amount of overall maintenance.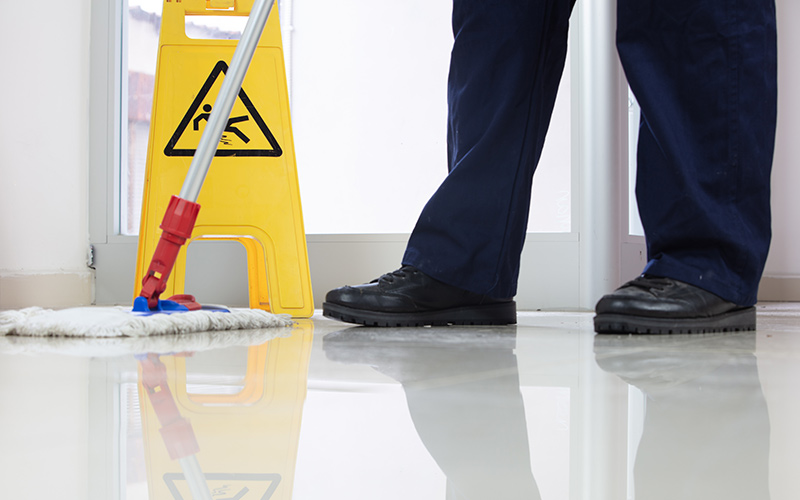 Our Commercial Cleaning Services
Interworld Cleaning is a trusted provider of commercial cleaning services throughout Baltimore, Annapolis, Pasadena, and Severna Park, with a reputation for unrivaled service from the team.
Building our business cleaning reputation over the years and forging long-term relationships with top clients, such as AIMCO and many others, has given us a fantastic and successful track record of commercial cleaning projects. Small and large office spaces, retail outlets, and hotels are just some of the places that choose Interworld Cleaning for our professional attitude and customer-focused service.
By partnering with us for your commercial cleaning requirements, you can rest assured that your facility will be beautifully maintained and will reflect the professional image you need for customers and employees. Our aim is to leave every space or facility with a presentable first impression for all your customers and visitors, and a clean and safe working environment assists productivity.
Cleaning Services Tailored To Your Needs
Our team of fully trained and pre-screened cleaning operatives will deliver outstanding results on every business cleaning project, at a time that's convenient for you. We provide flexible commercial cleaning services at times that fit around your business schedules, not ours, due to our 24/7 availability. Our services are adapted to your particular requirements – anything from routine daily cleaning programs to less frequent maintenance cleaning. We pay attention to every detail and listen carefully to what you require from us. Our team understands that everyone likes things done in a particular way, and we're dedicated to giving every project we undertake that personal touch.
All our cleaning operatives are also trained in correct product usage and safety procedures. We work diligently to ensure that all commercial cleaning services are performed to the highest industry standards.
We stand by our motto 'Green, Clean and Serene' when it comes to cleaning businesses, and we have a vast array of Green Cleaning products at our disposal. These non-toxic alternatives to harsh chemicals leave spaces fresh and smelling great. There are no more offensive strong odors of bleach and ammonia in your workspaces (unless otherwise requested), as all the products have a natural scent and do the job better. We don't mind paying that little bit extra for these green products, and we think it's worth the minimum damage they cause to the environment. With so many establishments cleaned through the year, it would be irresponsible of us not to try and implement these green, ecological solutions wherever we can over chemicals – and we're always improving in this area.
Some areas of commercial cleaning services we offer include :
We strive to give you the best labor costs and service in the area for whatever business cleaning services you require – schools, hospitals, banks, and churches included. You can rest assured that you're partnering with an honest and trusted commercial cleaning company.
Looking for a Reliable Commercial Cleaning Service?
If you are in search of commercial cleaning services in and near Baltimore, MD, head straight to Interworld Cleaning. We understand how cleaning requirements may vary from one type of business or property to another. No matter what type or size of the project is, we will always work with the highest level of professionalism and use the most advanced techniques and tools.
For your free consultation and quote, you can give our office a phone call or send us an email using the contact form.