When you run a restaurant or a facility with an on-site kitchen, it is crucial to keep every area of the kitchen properly clean. When it comes to commercial kitchen cleaning, a routine cleanup is not enough. A large, commercial kitchen has many different areas and cooking equipment, each of which requires proper cleaning without causing any damage to anything. That is precisely where the need for commercial cleaning services arises. Unlike your kitchen staff, professional cleaners are highly skilled and trained in commercial kitchen cleaning. Proper cleaning is essential to ensure your kitchen is free from different kinds of potential safety hazards and your entire facility operates in a smooth manner.
This kitchen cleaning guide will discuss the importance of professional kitchen cleaning services and how cleaning should be performed so that the facility is free from grease, grime, dirt, and other contaminants.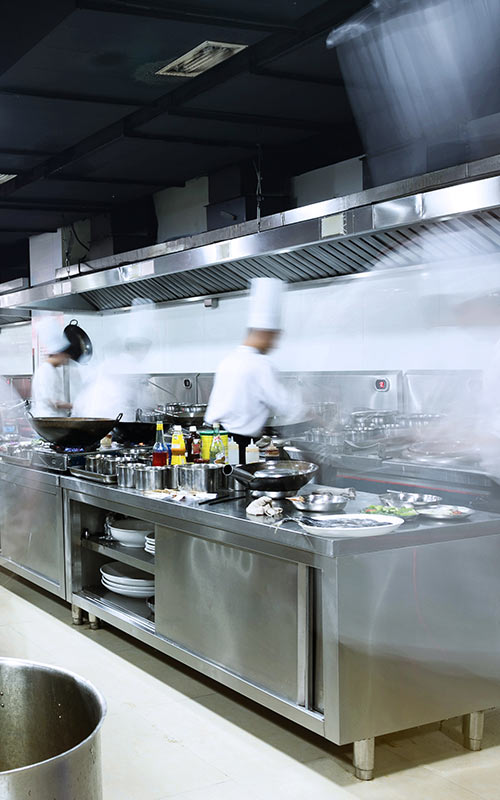 Safety for Kitchen Employees and Visitors
A commercial kitchen produces a great deal of heat, smoke, and grease. As a result of this, the indoor air gets contaminated and deposits of grease create a risk of a dangerous kitchen fire. If the kitchen exhaust system, ventilation hoods, and all the cooking equipment are not cleaned in a proper and timely manner, health and fire risks continue to loom over. As a responsible business owner, it is your foremost duty to ensure safety both for the staff and the customers.
The CDC has outlined clear guidelines for cleaning commercial kitchens in restaurants, dining facilities, and cooking establishments. Professional cleaners perform cleaning while abiding by the CDC cleaning stands.
Professional cleaning services aim to improve indoor air quality when performing commercial kitchen cleaning. Trained cleaners pay attention to every area, surface, and equipment. At Interworld Commercial Cleaning Company in and near Baltimore, MD, we specialize in the cleaning of large kitchens including the HVAC components, exhaust hoods, range hood fans, and all cooking equipment. 
For more information in this regard, reach out to one of our commercial kitchen cleanup specialists at Interworld Cleaning.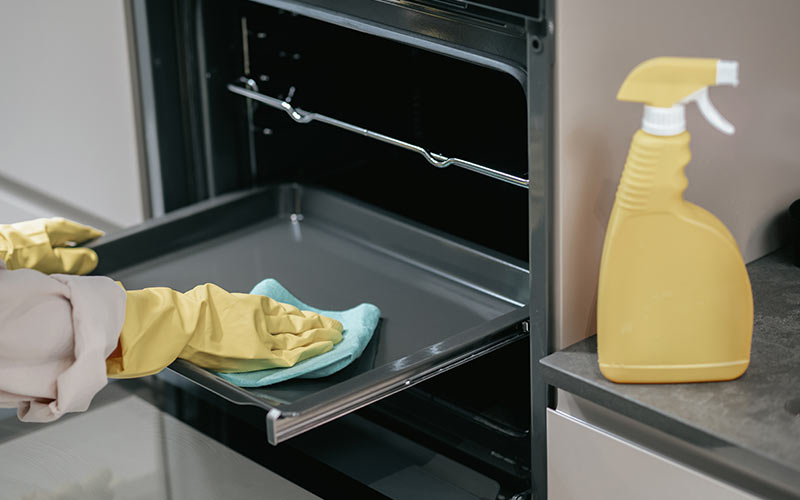 Cooking Appliances and Equipment Cleaning
In a commercial kitchen, the cleaning of all the cooking appliances and equipment should be done in an effective manner. 
Ovens: The ovens in a kitchen gather a lot of grease and grime. Whether it is spillage, grease or grime, all of this needs to be cleaned in a professional manner. Not just from the outside, but the interiors of the overs need cleaning. Seek the help of professional cleaners for an effective deep clean.
Exhaust Hoods: The ventilation system loses its efficiency to function as it should due to getting clogged. The culprit is the deposits of grease. Kitchen cleaning services are fully aware and trained on where exactly the vents and exhausts gather grease and grime and complete the entire task properly. Once the kitchen exhaust hoods are clean, their full efficiency is restored once again.
Refrigeration: The refrigeration system plays a crucial role in a commercial kitchen. If you plan for safe and proper food storage, you should always keep the entire system neat and clean. Wiping and sanitization of the fridges should be done on a regular basis. Also, you should schedule a deep cleaning of the refrigerators at least once a week by trained commercial cleaners.
Floors: Due to spills, the kitchen floor often becomes slippery. If you do not keep the floors neat and clean, slips and falls can happen anytime. To maintain hygiene and avoid injuries, it is important to keep floors clean.
Microwaves: It is important to clean the inner areas of the microwaves. It is the interiors where spills, dirt and grime gather. Using an anti-bacterial cleaner is essential for giving microwaves an effective clean.
Washing Stations
Commercial cleaning services offer comprehensive cleanup for every area, floor, and surface of the kitchen. Professional cleaners pay special attention to the cleaning of all the sinks and washing stations.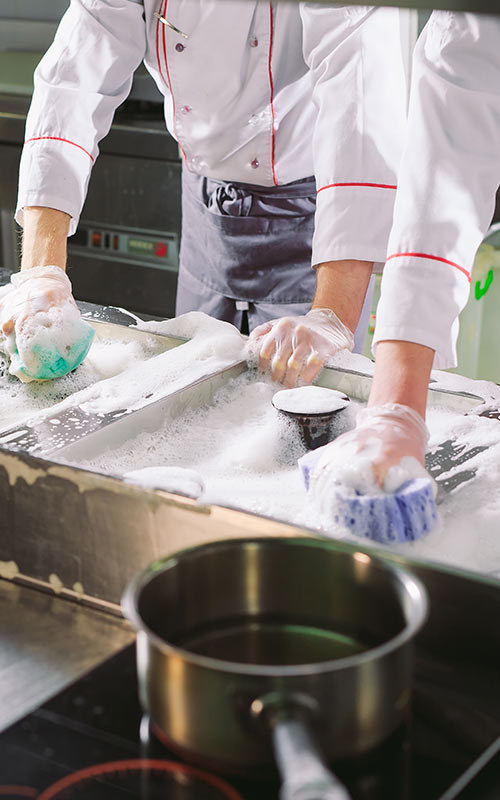 Sinks and Taps: A professional cleaner will never miss out on these. Cleaning of sinks and taps in a kitchen is necessary.
Grease Traps: These devices perform a crucial job. They filter fats and oils and prevent them from entering the waste pipe. That is why it is important to keep the grease traps in a commercial kitchen clean.
Drains: When it comes to kitchen cleaning, the drains are often ignored. When you hire commercial cleaning services, you can rest assured that the drains will never be missed out. Professional cleaners understand the issues that may arise if the drains of a large kitchen get blocked.
Dishwashers: Just like everything else, the dishwashers in your kitchen require regular cleaning. Professional cleaners use anti-bacterial cleaners and sanitize dishwashers to perform a thorough cleaning.
Apart from these, there are many other components and devices that require thorough cleaning on a regular basis and deep cleaning on a weekly basis. If you are a restaurant owner or a kitchen facility owner, you should remain aware of the vent hood and fire safety codes and get the cleaning done by expertly trained commercial cleaners to remain compliant and ensure safety.
Put a Kitchen Cleaning Schedule in Place
Without a cleaning schedule, it can be difficult to keep your commercial kitchen clean and hazard-free. If you plan to keep your facility neat and clean and create a safe and healthy working environment for the staff, you should create a comprehensive cleaning schedule as per specific needs.
It is best to get in touch with a commercial cleanup specialist to first understand what your needs are and then create a schedule that is a perfect match for the day-to-day cleaning of your restaurant kitchen.
Talk to a Commercial Cleanup Expert
Hopefully, the kitchen cleaning guide will help you understand how a commercial kitchen needs to be cleaned. If you still have a question or want to schedule professional cleaning of your kitchen facility, head over to Interworld Commercial Cleaning Company in Baltimore, MD. Our professionals are highly trained to carry out the cleaning of all types and sizes of commercial kitchens.