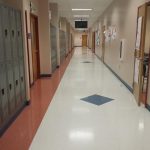 Children are said to be the future of a nation and schools carry out the noble task of nurturing them. A clean school premise promotes synergy among teachers and students alike. It creates a favorable environment that is ideal for learning, devoid of the distractions such as unpleasant smells, dirty walls, dusty desks, and trash cans that are overflowing. Schools often hire a commercial cleaning company to carry out the day-to-day task of dusting, mopping, and classroom and office cleaning, regularly emptying the trash bins – to name a few tasks. It has been observed that cleaning companies witness a high staff turnover ratio which eventually affects the quality of cleaning services provided to schools. There is a recurring problem of agencies sending new housekeeping staff week after week because the previous ones left due to a variety of reasons.
We at Interworld commercial Cleaning understand the cleaning needs of all our clients, be they industrial, commercial or residential. For schools, we offer cost–effective, high-quality cleaning services which provide a clean, safe, and harmonious environment for students, staff members, and parents. We have been providing our school cleaning services for many years now, which has enabled us to understand the exact manner in which to go about cleaning the classrooms, and toilets, installation of long-lasting dispensers, and handling the delicate lab equipment. We have a dedicated high-tech team having specialized training in cleaning the labs and research facilities. We have standard packages which can be tailored to meet the specific cleaning needs of your school in order to deliver the best commercial cleaning services experience to you. The common problems faced by schools with their janitorial programs is the employee turnover, high overhead, underqualified and rude staff, and liability issues related to custodial work. A given set of housecleaning staff would simply disappear one fine day, never to return. They are randomly replaced by other staff but it disturbs the schedule and rhythm of the environment and then it becomes difficult to keep a track of the cleaning staff. Our staff members are courteous, well trained and customer friendly. They are regularly supervised by our experienced supervisors to ensure that there is no compromise on the quality standards. Our commercial cleaning services are presently available in the areas of Maryland, Baltimore Metro, and Washington DC.
What sets us apart from our competition is the professionalism and quality of work we offer to our school cleaning clients. It translates into repeat business and long-term association with them. We are ready to go that extra mile for bringing a smile to your face by not only meeting your expectations but by exceeding them. We use a green line of products wherever possible for no extra cost. It is our way of helping the environment. At the same time, we ensure that hazardous chemicals are used away from the reach of children and teachers alike. We are aware that schools need to be run according to a fixed timetable. To cater to this, we provide round-the-clock services. You have the flexibility to choose the commercial cleaning schedule so that the day-to-day work of the school is affected the least.