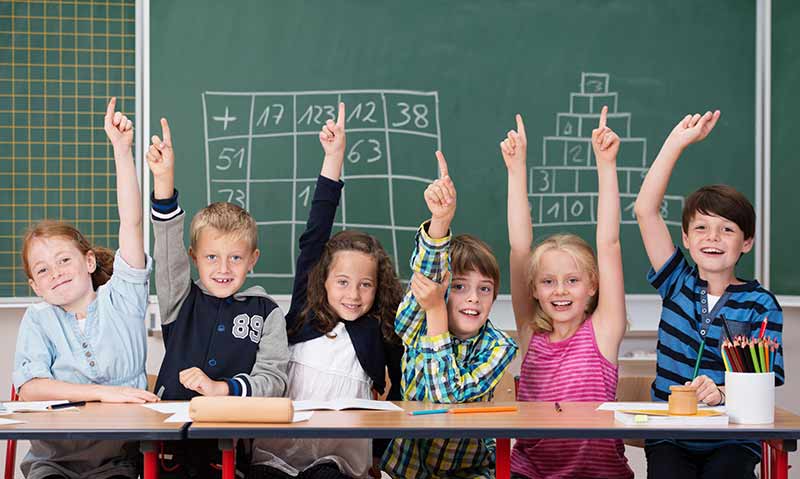 Now that it's summertime, vacations and beach trips are in full swing and as parents we are more worried about sun burns and mosquito bites than sniffles and colds! However, as a parent you know that the inevitable school time sicknesses are looming not far in the future.
In fact it's a constant that one of my two children will have some sort of runny nose or cough once the school year starts and it will likely remain that way throughout the year!
This is hard to avoid due to the number of kids and the interactions that they will have but the one thing we can try for is to have our school systems take this time during the summer to do as much cleaning and disinfecting that they can in order to eliminate as many of the contagens as possible.
Throughout these months when there is little traffic deep cleanings and other beneficial cleaning acts should transpire in order to have the cleanest environment as possible for the return of the the kids.
Take a few days in the beginning of the summer to sit down with your janitorial provider and make plan!
Put something in writing that puts a plan in motion that strategically tackles the problem areas and those that become that hardest to maintain on a daily basis. This divide and conquer approach will allow you to systematically clean your facility and give you the comfort that you are cleaning to areas which need to be addressed. The summer months go by fast and having a " we will get to it attitude " will likely lead to a failed mission in regards to having the school cleaned and sanitary for the kids.
Don't waste this valuable time to get your facility clean!
This is the perfect opportunity to clean areas that will be too difficult to address during the school year.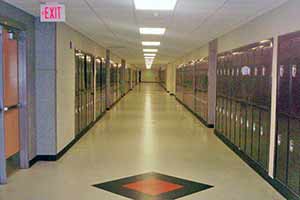 Floor maintenance is one of the hardest things to keep up with and even more difficult to commit to having them cleaned.
Schools are a heavy traffic area and breeding grounds for all types of dirt / grime and bacterias which get tracked throughout the tile and carpet. During the year with hundreds of kids and staff walking throughout the building bringing in everything from the outside world into and onto the floors, maintaining them should be priority. Between the spills and dragged furniture damages cleaning / maintaining them is a necessity for a healthy learning environment.
As we all know bathroom and locker room cleaning and disinfecting are of the utmost importance.
These are the breeding grounds for such things as MRSA and other harmful viruses and these areas must be deep cleaned and eliminated of such pathogens. The amount of concentrated bacteria and other harmful contaminants thrive in the summer heat and need to be dealt with properly to ensure their demise before the start of the school year.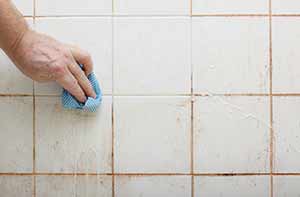 Another particular area which is often overlooked but needs to cleaning in its' entirety is the grout between your tiles, especially in the bathrooms. Grout is an area where odor causing bacterias can penetrate into which leads to that unclean and sanitary smell. Take this down time to find the best method for your particular facility and get those grout lines cleaned of unwanted bacterias.
During the school year the dirt accumulates faster than your janitorial service provider with all the traffic of a normal day so take the time over the summer to clean those hard to reach or overlooked areas that desperately need it!
Use this down time to take inventory and stock of all your supplies / machinery to ensure that everything is in operational shape.
This is the ideal time to fix any minor issues and inspect your equipment and janitorial closet.
You should look to make sure that all products are labeled and stored properly, you don't want a fine for improperly labeled products. We further recommend making sure there is a multi colored cleaning rag regime in order to avoid cross contamination which is a major concern.
This is also a great time to evaluate your current green cleaning products and become up to speed with the new updates and innovations.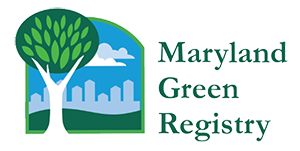 As members of the MD Green Registry we are always willing to share the newest products and beneficial details that accompany these products. The health and wellness of the children is our top priority and we are continually trying to find the healthiest products on the market for use their environment. This is the time to gain the knowledge and practices that will help the cleaning process during the year run as smooth as possible.
As parents we want the best for our children which includes having them healthy and happy!
While school is of the utmost importance we also need to find a way to keep them as clean as possible to encourage a positive learning environment as opposed to one that will keep our kids home sick or in a constant state of uncomfortableness.
It is impossible to always keep them out of harm's way but having a clean and serene place to learn should be achieved and the proper steps should take place to ensure this cleanliness.
---
Please contact us to learn more about how to keep your school clean!
---