There is a big misconception about office cleaning, and many think it is the same as home cleaning. But office cleaning is complicated, and you can't do it in one single day. So if you want to make your office a safe and clean environment for everyone who works there and frequents it, you must regularly stick to a cleaning schedule. If you think cleaning your office is tedious, give it to commercial cleaning companies like Interworld that have the required experience and expertise to do that. 
What to do at the beginning? 
A clean office will have many positive results for your working environment and increase the employees' productivity and loyalty. When your employees see your concerns regarding the safety and cleanliness of the workplace, they can focus on what they do with peace of mind. A safe and comfortable working place will also keep the morale of employees high, which is an essential factor to consider. So it would help if you had an office cleaning schedule that is appropriate for your situation and meets your office's requirements. The cleaning tasks you assign in this schedule must be daily, weekly, monthly, and quarterly to get the best results.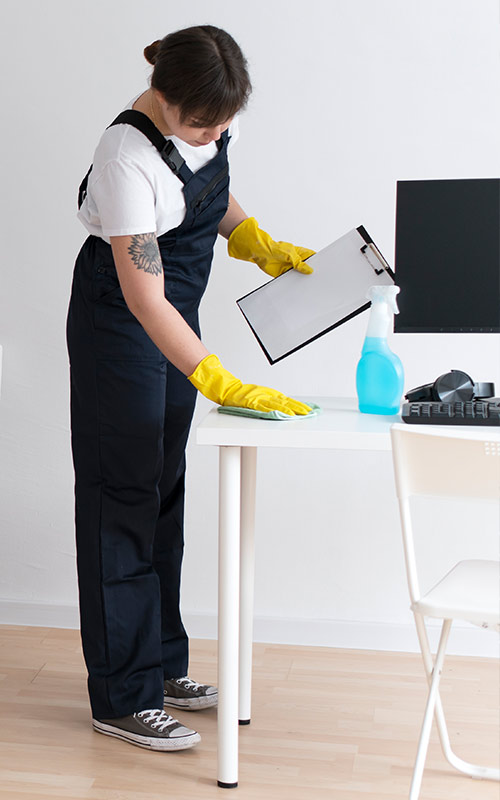 Daily responsibilities 
You or your cleaning service must do some tasks daily, and it involves the areas that staff and visitors mostly use. These areas create ample opportunities to make individuals ill, and you need to pay close attention to them. Here are some daily responsibilities that you can insert into your daily checklist: 
Breakrooms and kitchens that your staff use 
It would help if you did the following tips every day to have an efficient cleaning schedule: 
Empty the garbage cans daily to protect yourself against unwanted pests and smells. 

Clean and sanitize places like sinks and counters daily to prevent the spreading of disease-causing microorganisms. 

Remember to refill hand soap and dish soap every day. 

Clean the floors and mop them appropriately.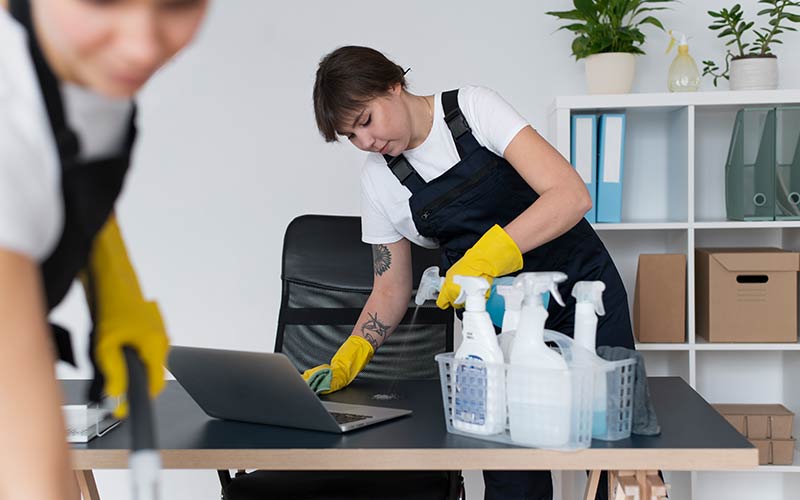 The reception areas of your office  
Many individuals will gather in the reception areas of your office, and they must stay safe in those areas. Keeping the congregated folks clean and presentable has various positive results, and it will increase your company's reputation. When a person enters your office, these reception areas make the first impression, and people judge your company according to that. The following daily checklist will be helpful for reception areas like conference rooms: 
Empty the trash cans and clean upholsteries. 

Dust the equipment, window sills, ceiling corners, and all the other required nooks and crannies. 

Clean and disinfect various surfaces of your office. 

Clean the windows and disinfect the door knobs. 

Wipe elevator buttons and disinfect the floors. 
Are you looking for office cleaning services in & near Baltimore, MD? Our commercial cleaning company is the best choice. Our commercial cleaning services are top-quality because they result from experience and expertise. We have professional cleaners who offer the best office cleaning services in Baltimore, MD. Our services are affordable and flexible, so a wide range of clients can use our tailored packages in line with their expectations and requirements. Contact us immediately to experience our top-notch services!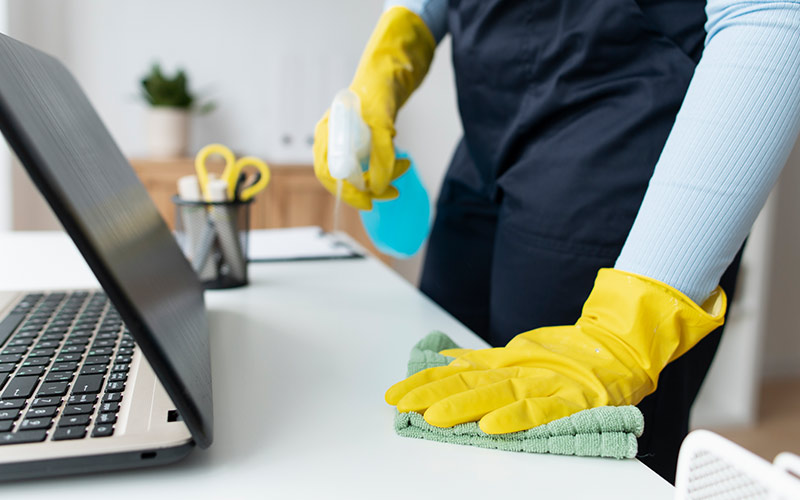 Bathrooms must receive daily cleaning attention 
All the available bathrooms in your office must be cleaned daily because these areas can help the growth of germs and bacteria. So cleaning and sanitizing all the office bathrooms are fundamental. You can include the following items on your daily checklist for bathrooms: 
Urinals and toilets are areas with lots of microbes, and you must disinfect them daily. 

Disinfect all the surfaces and places for holding accessories. 

Clean and disinfect all the mirrors and windows to avoid health risks. 

Mop and sanitize all the floors.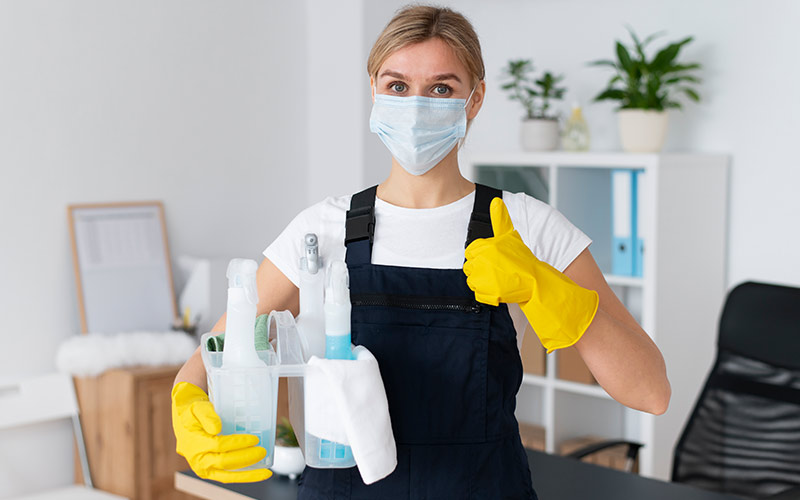 Weekly responsibilities 
Daily cleaning is the most important thing to do in your office, keeping your workplace neat and tidy. But there are also some weekly cleaning tasks you need to do, which are not less important than daily responsibilities. Here are some items that you can put on your weekly cleaning checklist: 
Please pay attention to wood surfaces and try to buff and polish them every week. 

Squeegee all the windows of your office, especially ones facing the street. 

Remember to empty the freezer and refrigerator weekly and disinfect the inside of them. 

All office appliances, like microwaves and coffee makers, need deep cleaning weekly. 

Dust and bacteria can quickly accumulate in desk areas, so all these areas must be cleaned weekly. 

Scrub and disinfect the sinks in the kitchen to avoid mold accumulation.
Monthly cleaning responsibilities  
There are also some responsibilities to do monthly, which are as important as the daily and weekly tasks. Monthly tasks are usually time-consuming, and it is better to do them on the weekend when you have enough time. These are some monthly tasks that you need to consider: 
Office furniture and areas like vents need vacuuming every month. 

You have to dust and disinfect the office every month. It includes hard-to-reach areas like cabinet tops. Commercial cleaning services usually take this responsibility seriously and put it on their monthly checklist.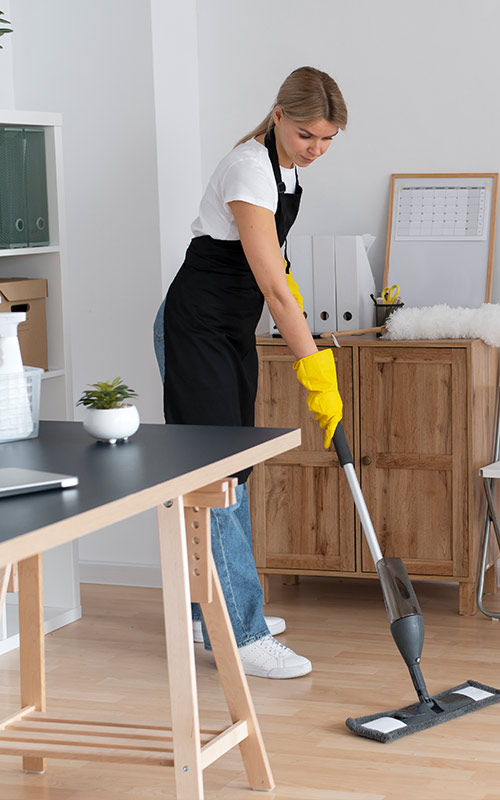 Polish all the hardwood surfaces to help your office look pristine throughout the year. 

You must declutter and organize all the main components of your office monthly. 

If you have carpet flooring in your office and it is a high-traffic area, it is better to shampoo it monthly. 
Quarterly tasks 
Quarterly cleaning tasks are some bigger-ticket responsibilities that you need to consider. You can see these responsibilities as seasonal checklists, and here are some of them: 
The air filters in your HVAC units must be changed quarterly, and it is better to use more powerful filters during winter. 

You must also clean the ducts in your office quarterly if your office is high-traffic. Duct cleaning entirely depends on the situation of your office, and annual or bi-annual cleaning might be appropriate in some cases. 

If you want a warm and festive environment in your office, seasonal decorations work for you.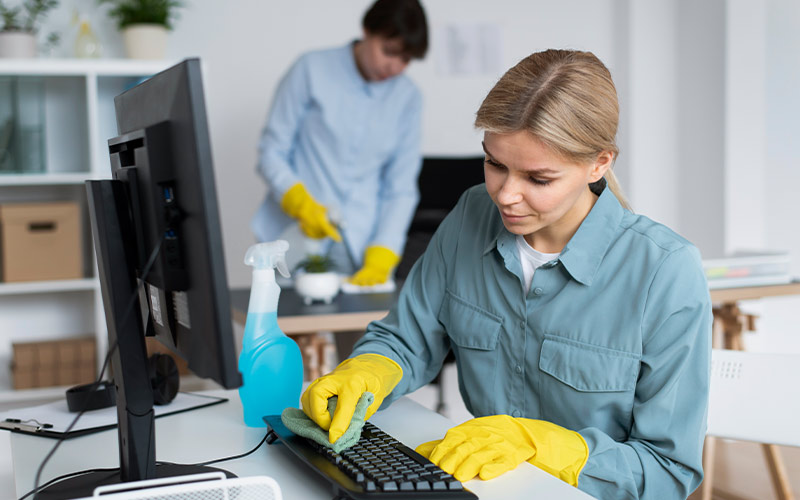 Office cleaning services in & near Baltimore, MD 
Are you considering office cleaning services? Our commercial cleaning company is the solution. We offer quality commercial cleaning services to our esteemed customers because they are of our utmost attention. Years of experience with expertise and knowledge make us unique in the industry. Our history is a telltale sign of the company's performance, and our loyal customers confirm the smooth and top-quality services of the team. Contact us right now to experience what you deserve!