Interworld Cleaning, Inc was founded with the very idea that cleaning is a specialized task, especially when it comes to professional sets up such as commercial and industrial premises. With these high workplace standards, we make sure that you get the best of services, delivered by well-mannered, uniformed, experienced staff at your premises.
Over a period of time, we kept raising the bar and now our residential customers have also realized the value of hiring uniformed professional cleaners for their periodic commercial cleaning services rather than using the services of the regular maids who do not match up to the experience, expertise, equipment or the professionalism and punctuality offered by us.
For us, the clients are not merely sources of business, but relationships for life. We have inculcated a number of cleaning practices into all our service packages which give you an entirely different customer experience when you do business with us.
The new cleaning standards that have made Interworld Commercial Cleaning Company synonymous with quality and professionalism are listed below: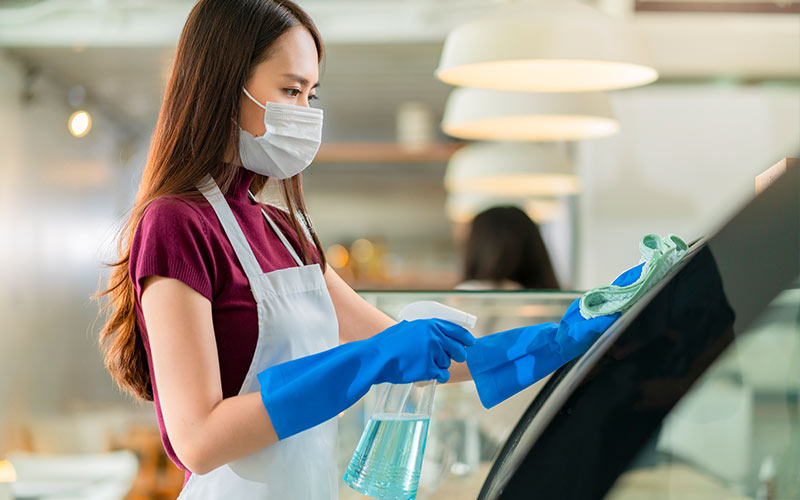 All janitorial services will be performed by trained personnel using current, acceptable industrial practices. We have no issues in signing the mandatory contracts and helping you out with the requisite paperwork to help you comply with the legal benchmarks.

All work will be performed in a manner that maintains the original condition of the building and furnishings. We take utmost care in protecting the existing furnishings while cleaning the premises. We would never leave those dirty stains on your furniture and floor. We handle the existing structure with utmost care and our staff would ensure that their original condition isn't compromised.

Our Green Cleaning initiatives ensure that we minimize the impact on the environment without any additional cost. This way, we continue meeting our targets of reducing our ecological footprint year after year, to support our commitment towards sustainable development.

Continuous improvement through feedback – We constantly strive for improvement by collecting feedback from our clients on a regular basis and incorporating them into our future contracts.

Round-the-clock availability – Our services are available 24 hours a day at your convenience.

Legal compliance and assistance in paperwork – We sign the standard paperwork without asking any questions and help you with the legal aspect of the industry to eliminate the possibility of legal hassles in the future.

Customer-friendly staff – Our strict hiring standards mean that we hire the best in the business and train them further on customer interaction to make sure that your services are delivered in the friendliest of atmospheres.
Here is a list of things that we would NEVER do:
Engage in loud or boisterous behavior

Be under the influence of alcohol or drugs

Remove any articles from desks

Engage in long conversations with surrounding personnel or each other

Remove any documents, records, or forms of paper of any kind which is not either in trash cans or clearly marked as trash

Use any tobacco or tobacco substitute product in any form

Engage in any activity that is not in the best interest of our client