Interworld Cleaning, Inc was founded with the very idea that cleaning is a specialized task, especially when it comes to the professional set up such as the commercial and industrial premises. With these high workplace standards, we make sure that you get the best of services, delivered by well mannered, uniformed, experienced staff at your premises.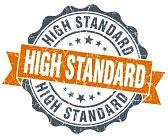 Over a period of time, we kept raising the bar and now our residential customers have also realized the value of hiring uniformed professionals for their periodic cleaning services rather than using the services of the regular maids who do not match up to the experience, expertise, equipments or the professionalism and punctuality offered by us.
For us, the clients are not merely sources of business, but relationships for life. We have inculcated a number of cleaning practices into all our service packages which gives you an entirely different customer experience when you do business with us.
The new cleaning standards that have made Interworld Cleaning synonymous with quality and professionalism are listed below:
Here is a list of things that we would NEVER do:

Engage in loud or boisterous behaviour
Be under the influence of alcohol or drugs
Gamble
Remove any articles from desks
Sleep during work
Engage in long conversations with surrounding personnel or each other
Remove any documents, records, forms of paper of any kind which is not ether in trash cans or clearly marked as trash
Use any tobacco or tobacco substitute product in any form
Engage any activity that is not in the best interest of our client