The floors are essential in every living or commercial place due to the frequent encounter of your feet with them. People have different preferences about the flooring type they choose, and there's enough motivation to keep it clean and tidy. Whether at home or at your workplace, proper floor cleaning is a fundamental issue to keep in mind. If you want to keep your flooring in an appropriate condition, floor cleaning services are required. These professional services are equipped with the latest technology and tools, plus well-versed cleaners. Interworld is a fantastic option if you live in Baltimore, MD. 
A low-speed scrubber is a multipurpose tool that you can use for cleaning the surfaces of your home. You can do various things like buffing, floor scrubbing, and carpet cleaning through this helpful tool. A low-speed scrubber is an excellent option for the home, but it doesn't have enough efficiency for areas with high traffic like offices and working places. A high-speed burnisher is a fantastic option in the case of high-traffic areas. Spaces like offices need lots of stripping and waxing, so a high-speed burnisher will help restore the floors' shine and unique appearance. In this article, we'll discuss these two tools in more depth.
More about low-speed scrubbers 
Versatility is the primary feature of this machine, so the tool is the cornerstone of many professional cleaning services. Scrubbers are available in different sizes with the unique structure of an axis and a set of wheels. It will start operating if you tilt the machine back on the axis. These machines can be used for specialized purposes; for instance, you can use a scrubber as a specialty item for carpet cleaning with a tank mounted on it for shampoo.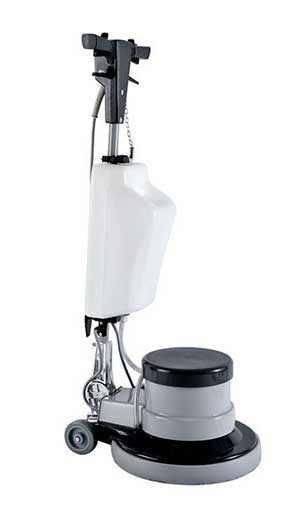 Since the scrubbers are multipurpose, they are the best choice in professional cleaning services and projects with multiple surfaces. Although these machines are versatile, they are slow compared to high-speed burnishers. The speed difference between these two devices is significant, and burnishers are much faster. Therefore, burnishers are far better choices for commercial cleaning services that deal with more substantial projects. 
Don't use the scrubbers for extended periods, and consider the construction; the machine is perfect for ergonomic working posture, and no additional effort is required for proper operation. Instead, the design will lead to more productivity and reduce health hazards considerably.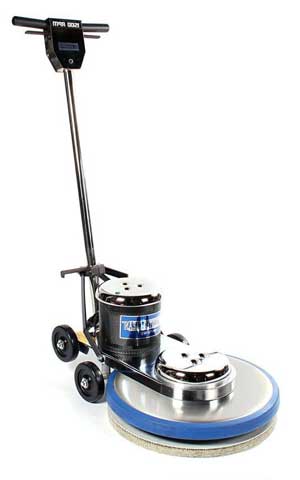 More about high-speed burnishers 
If you use these tools appropriately, a high shine and a wet appearance will result. Burnishers are in different models with two sets of wheels and axis. These tools can reduce manual labor significantly and operate in a back-and-forth motion. The functional interplay between the floor finish and the bad is the main reason for the provided high shine. The high-speed burnishers are usually in three types: propane, electric, and battery. Watch out for propane machines due to the toxic emissions they can create.
The battery-operated ones can hold the charge for around two hours and polish around 15k SF each hour. They usually run on a 15-amp circuit. The propane type is much faster than the other types, perfect for warehouses and large areas. Many commercial cleaning services use propane burnishers due to their high capacity and speed. The burnishers are one-function tools, so they are efficient and quick no matter what types and models you utilize. 
High-speed burnishers are lovely choices when polishing complex flooring types. This machine can be used in various phases of polishing throughout the project. The back wheels of the machines must be in the most set-back hole to maximize the results, an important point to consider. Remember to move the pivot point back for a few inches if you want more pressure on the pad while working with the machine.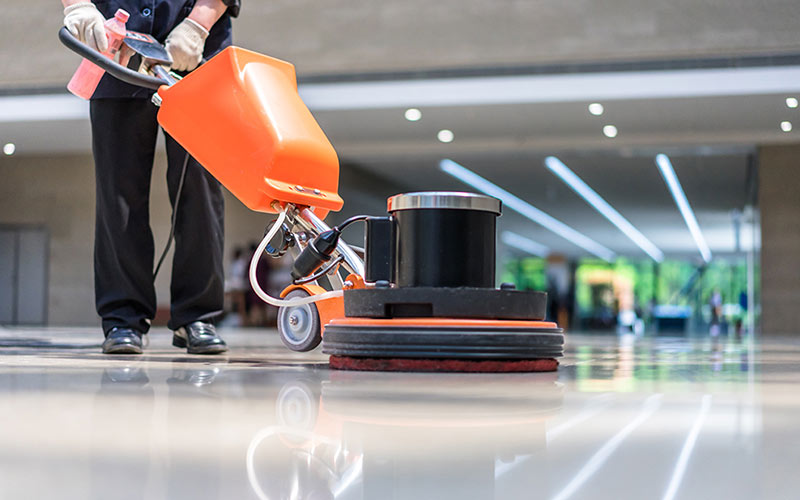 Here are some tips for using the burnishers 
Burnishers can be utilized with parts like natural pads to wipe a damp slab faster. 

To vacuum the available debris on the slab, use the machine in one direction and continue the process. 

Use the burnisher on the slab slowly and create more friction between the pad and the surface. 

If the burnisher is equipped with the correct pads, it can be a polisher to bring more shine. 

You can burnish the densifier to a higher degree through the machine. Move the front of the device backward and forward to do that; the movement can also be in one direction
The appropriate choice of cleaning machines is vital 
Both these cleaning machines are excellent choices for your floors. However, it is essential to have the correct option to avoid floor damage because these tools have different applications. The requirements of surfaces are varied, and you need to choose a suitable machine in line with those needs. A professional commercial cleaning company like Interworld can help you here, looking at your floors and determining the requirements to apply the convenient options.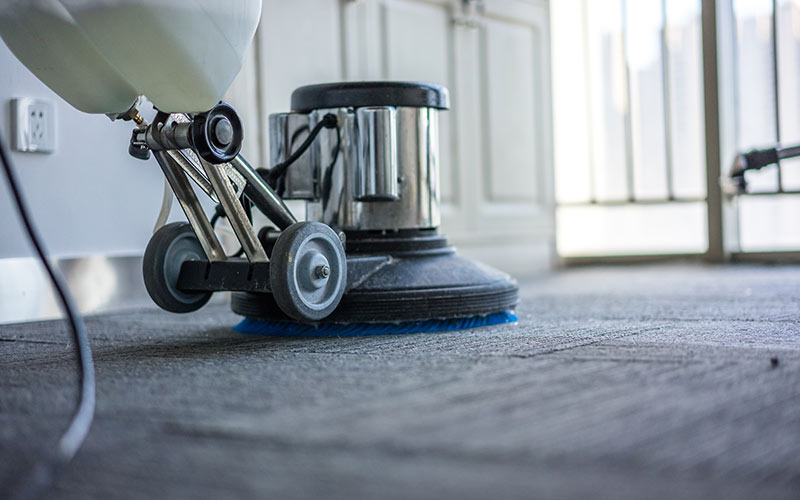 Floor cleaning services in & near Baltimore, MD 
Clean and tidy floors will positively affect the visitors to your home or commercial area. Cleanliness ensures the safety of your environment and prevents health hazards significantly. Dirty flooring with lots of dust and grimes can be hazardous for you and the other people in the area. You will need floor cleaning services to keep your floors clean and shiny. These pro services are equipped with the latest tools and products in line with highly-trained cleaners who have passed various screening tests. So they can ultimately complete commercial cleaning services. If you are looking for a commercial cleaning company in Baltimore, MD, Interworld is the best option. We at Interworld provide quality services to our respected clients, and their satisfaction is our top priority. Years of experience and hard work make us one of a kind in the industry. A perfect combination of professional cleaners, modern tools, the latest products, and expertise creates the best cleaning results for each project. Our professional cleaners are experienced enough to meet your expectations thoroughly. Give us a call right now to join a revolution in cleanliness and hygiene!