When you own a business, whether it's an office, restaurant, retail outlet, or anything else it's up to you to keep the place spotless. Any commercial property owner understands how overwhelming this task can be. Luckily, you can call in commercial cleaners to help you with this undertaking.
But are there do-it-yourself tips to use to keep your own property clean with the help of employees? Absolutely.
There are a number of ways to keep your property clean by working smart, not hard. Some things however are best left in the hands of pros. Here are things you can do on your own, professional best practices to abide by when you DIY clean, and when you call a reputable commercial cleaning company.
Doing it Yourself – Work Smart Not Hard
Preventative measures go a long way when it comes to keeping a workspace clean. You can discourage your employees from eating lunch or snacks at their desks and corral them into the kitchen.
Use all-in-one cleaning tools for superficial cleaning. For example, towelettes can be used to clean keyboards and monitors, picking up dust, debris, and crumbs all at once.
You'll want to keep the vacuum handy, for emergency pick-up and regular cleaning.
Save steps to the supply closet by placing trash liners in the bottom of trash receptacles. When it's time for a new trash bag, there will be one immediately available.
Delegate routine cleaning duties to your employees, but keep things fair – rotate jobs regularly.
Professional Best Practices You Should Employ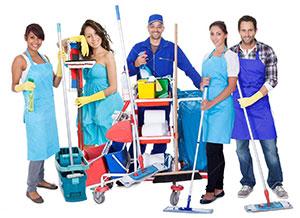 Best practices are called best practices for a reason – they consistently show results that are superior – the easier, better way to complete cleaning tasks.
Systemize your cleaning processes, keeping them as professional and consistent and as possible.
Educate and motivate employees to be as dedicated to a clean work environment as a professional cleaning company would be.
Cleaning should be consistent and responsive. Routinely inspect the premises and communicate with your team to make sure they know how to do what's needed.
It's a good idea to commit your cleaning to environmental responsibility, health, and safety.
Train your workers on the best methods of cleaning and how to protect the health and safety of other employees.
Leave These Projects in the Hands of Professionals
Carpet cleaning – Carpet cleaning is best performed by trained technicians, but steam cleaning extends fiber life and makes carpets look their best.
Upholstery cleaning – Professional upholstery cleaning helps to get rid of dirt and odors that have accumulated. You can also take advantage of stain-resistant treatments.
Air duct cleaning – When done properly, air duct cleaning contributes to indoor air quality and employee health.
Are workplace cleaning chores stealing valuable time you could be spending working?

Let us do the commercial cleaning services so you can get back to what you do best – running a business. As Baltimore's leading commercial cleaning company, we'd be happy to help. Although you're better off leaving the heavy jobs to professionals, we can also save you time and elbow grease with routine cleanings.
Contact us today for more details.