On large industrial sites we know there's a lot to organise when dealing with a foreclosed property, that's why Interworld Cleaning aims to provide the most efficient industrial foreclosure cleaning services that don't hinder our already busy clients. You can rest at ease knowing the cleaning we undertake is being carried out in a professional manner, ensuring every space is cleaned brilliantly. Interworld Cleaning provides industrial foreclosure cleaning services to complexes and large industrial facilities in the Maryland, Baltimore and Washington D.C. area.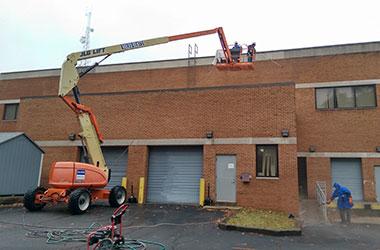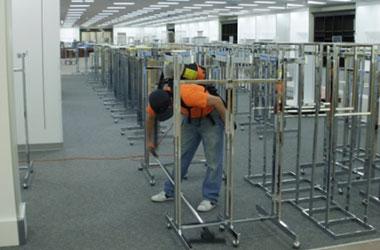 We give our full dedication to every project, and you are kept informed at every stage. Employing a large workforce equipped with the correct cleaning equipment, we give outstanding cleaning results on foreclosed properties of all sizes, including manufacturing plants and warehouses. We pride ourselves on completing projects by the set time, and working closely with our clients to make sure they get the best value for money possible. We leave every foreclosed industrial facility in immaculate condition, and every area properly cleaned and sanitized.






A TOP-TO-BOTTOM DEEP CLEAN ENSURED
Our cleaning crew always have an eye for detail, and understand the need for a thorough clean of the foreclosed property. Some companies can do a half-hearted job on foreclosures, but our years of experience and trained staff keep standards high and maintain a quality finish at every stage. Places where machinery, desks and office furniture have been are left spotless for the new occupants, and try we try our hardest to remove those really stubborn stains with a variety of techniques.
A HELPFUL HAULING AND MOVING SERVICE
If you're moving to another premises, we can help. Interworld Cleaning also takes care of the removal and moving aspect of foreclosures, and can dispose of anything no longer needed. We haul anything like shelving units, old desks, chairs and any electrical equipment to the new property- keeping it safe all the way. We can also break furniture down into small pieces for removal, fitting more in our vehicles meaning less trips, and less cost to you. If you require this service, please let us know when booking so that we can accommodate your request.
SPARKLING WINDOW CLEANING SERVICES
The glass panes in windows and sliding patio-style doors can become clouded and grimy through constant use, leaving a less-than-satisfactory impression. Our operatives clean both inside and outside of glass window frames, and also bring back the shine to the sills, sealants and mechanical parts. The products we use are nearly all environmentally-friendly, and do the job better than other cheap and nasty competitor brands that are available.
POWERFUL PRESSURE WASHING SERVICES
Busy industrial areas can build up lots of dirt and grime from constant use over time, and some areas need a more demanding approach for dirt removal. Interworld Cleaning provides a tough pressure washing service for heavily tarnished areas, lifting the dirt and restoring the original surface in most cases- some areas may not be suitable for the power of a pressure wash. Forecourts, warehouses, facility entrances and exits can all be tackled with our range of pressure washers and cleaning products.
A REJUVENATING CARPET CLEANING SERVICE
Our company provides the right tools and the right people for every industrial foreclosure cleaning service we offer, including a deep clean of most well-trodden carpets. Specialised equipment and nearly always green cleaning solutions work their magic on your carpets, whatever the size, to restore the original fibre colours. Entrances and exits, office spaces, stairs and larger wall-to-wall carpets are tackled by our team to leave a fresh, clean carpet every time.
Interworld Cleaning is fully insured, licensed and bonded throughout America. Our company's insurance meets, and much of the time exceeds, the minimum requirements for working with large organisations such as banks, realtors and all city/state/federal agencies.

We take digital photos of the property before and after, that can be e-mailed to you free of charge. Just ask us if you would like to do this for your foreclosure, possibly for prospective clients. Check our gallery.

Interworld Cleaning always aims to give customers the best value for money, and we provide free no-obligation quotes for any industrial foreclosure cleaning service you require.