Interworld Cleaning always provides the right equipment and cleaning solutions for every task, and our extensive range of cleaning tools will remove nicks and scuffs from just about any type of floor surface, leaving it with a professional shine. Vinyl and vinyl composition tiles bounce off the light once again and gleam beautifully. Ceramic and tiled surfaces are protected from marks and cement flooring is left smooth and shiny. Marble floors buff up to a luxurious reflective shine. The industrial floor stripping and waxing services we offer in Maryland, Baltimore and the Washington DC. areas
Floors in industrial premises can be easily scuffed or marked when there's a high volume of traffic in certain areas of the facility that are most commonly used. Interworld Cleaning provides industrial floor cleaning services for all porous surfaces and many others. Our cleaning crews use a variety of methods using efficient cleaning equipment to bring the shine back to your worn floor surface.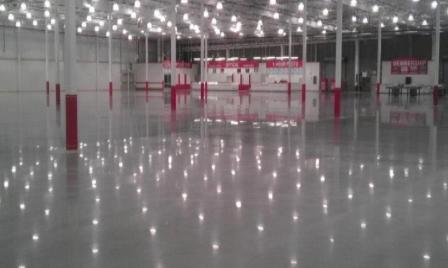 Dirt, grit and other items can be crushed into floor surfaces everyday, leaving marks and tainting the overall appearance.
The methods of industrial floor stripping and waxing we offer bring the best results for any floor surface, and our team has many years of cleaning experience in this area.
A significant proportion projects that Interworld Cleaning undertakes involves industrial floor stripping and waxing, so it has become an area we take extra special care in – constantly testing the newest techniques and chemical solutions that will give the greatest results. This higher quality comes at a competitive to slightly higher price, but we have seen the brilliant finish it leaves on every surface we strip and wax.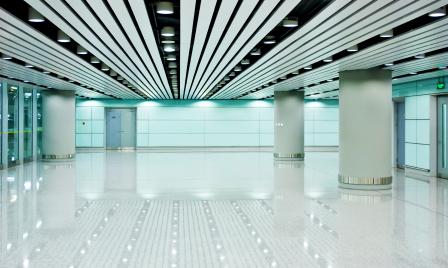 The methods and techniques we use strip and wax industrial floors has long-term benefits:
 Floor surfaces last longer after a quality strip and wax, so time between services is extended.
All surfaces are left with a sparkling gleam, giving a clean and smart impression to family members, friends, guests and other visitors.
Special techniques and products make the floor slip-resistant, reducing the hazard for families who may have elderly members or children running around.
Provides a greater protection to the original floor surface. The majority of scratches and nicks will be on the floor finish rather than the actual surface.
Other cleaning companies that provide industrial floor stripping and waxing services can 
easily fall short in many vital areas, like how many coats of finish to use or how to strip and wax the difficult corners of a room. Our combination of dedicated professional cleaners, and close-knit partnerships with major suppliers such as Buckeye Cleaning Solutions and Odorite allows Interworld Cleaning to provide a service that is superior to our local competitors, and why we're trusted time after time.

Inexperienced industrial cleaning companies sometimes use too much or too little floor finishing coats, leaving bad results either way. 1-2 coats is too thin and doesn't give any protection or shine, and anything above 5 coats of finish makes the floor too slippery, especially if liquid is spilt on it. 
We generally use 3 or 4 coats when we strip and wax, and provided the right floor finish and technique is used, this gives a great glossy shine and protects floors from everyday scratches. It is also totally slip resistant for extra safety. If you have a heavily scratched floor, we strip the existing finish and reapply a new one to the floor- a much more cost-effective option than replacing the entire floor. A full strip and wax is recommended at least two times per year, and a maintenance burnish at least once every month depending on the floor size of the facility. These suggestions are based on the amount of floor space you need cleaned and how much the area is used.
The range of floor strippers and finishes we make use of are the tried-and-tested top names for floor renovating and give beautiful 'wet-look' finishes for all floor surfaces. Interworld Cleaning is dedicated to using these effective products for our industrial  floor cleaning services, and we consider the added expense for these as a great investment for customers.
We use Reliable Floor Stripper to break down the original floor stripper which allows scratches, nicks and dirt to be removed, and also cleans corners effectively (which  many other companies fail to deliver). The product works twice as fast as regular strippers, allowing us to get the job done quickly and efficiently. It is not as toxic as other solutions used for stripping, and doesn't have that pungent chemical smell (butyl) which clings to fabrics around the home and lingers afterwards.
Our mid to high grade floor finish, High Traffic Floor Finish, is an excellent choice for most floors. Non-yellowing and slip resistant with a great shine, this finish doesn't require any further burnishing and can be used on all porous floors. The finish dries very quickly which reduces the time it takes to complete, and is detergent-resistant so it can withstand regular mopping. It resists scuffs and marks so it stays in better condition for longer.
For that extra gleam, we can apply Reliable Floor Finish for a high-end finish to a variety of floor surfaces. Superbly durable for areas of high traffic, the finish is non-yellowing and slip-resistant. Although slightly more costly, usually around $.10 more per sq. ft than Clarion depending on the floor, this luxurious finish can be brought back time and time again through maintenance burnishing. We highly recommend this high-grade finish because it is more cost-effective in the long run.
If we go the extra mile for our stripping and waxing products, you can be assured we do the same for our floor cleaning equipment. Interworld Cleaning has a variety of specialized equipment that gets the job done correctly the first time – low-speed floor scrubbers, walk-behind floor scrubbers and industrial propane floor strippers. In addition to these we aim to finish the strip and wax in the least time possible to minimize disruption to your work schedule, so we use air movers to dry the floor finish faster between the coat applications.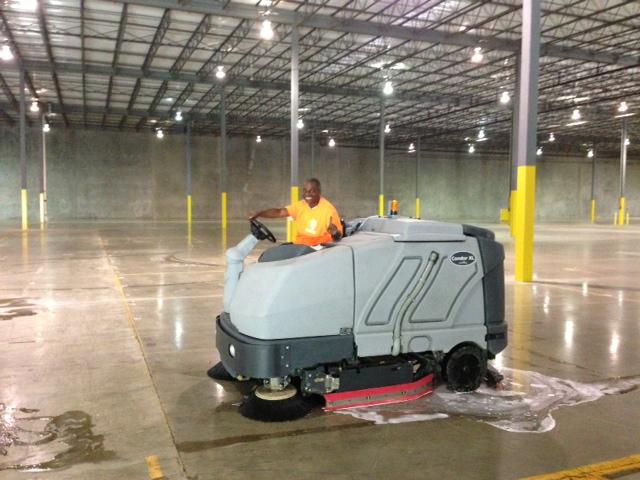 The expert methods and techniques, along with the excellent products Interworld Cleaning uses to strip and wax your floor brings a high standard of cleanliness and a professional look. Our floor stripping and waxing services include:


We dust mop to make sure all loose dirt has been removed and carefully remove any items that are stuck to the floor surface. 
We post Wet Floor signs to advise the public and employees of the potential slipping hazard.
We prepare the stripping solution according to recommended instructions.
We apply the stripping solution to small sections of the floor and let it work for about 5-10 minutes depending on the materials involved and the condition of the floor.
We use an auto scrubber and/or propane strippers with abrasive pads to remove the existing floor finish/sealer.
We tackle all of the corners manually with specialized tools, so they are clean and left looking great. This is the part where most companies fail to deliver.
We use the auto scrubber and sometimes a mop to remove the dirty stripping solution and water.
We damp mop the floor with clean rinse water and allow it to thoroughly dry.
We finish the process by applying the floor finish appropriate for the surface.
We work around times that are convenient for you, and for industrial sites that are open 24/7. We can carry out floor stripping and waxing services 24/7 as well to meet your requirements. We ensure that areas being cleaned during work hours will be properly closed off to prevent any hazards.