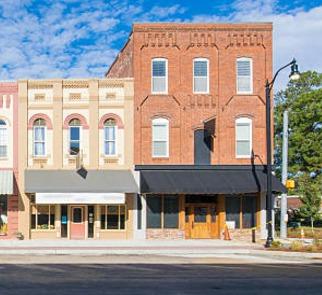 A Pressure Washing Case:
Two storefronts sit side by side, identical in every way, except one storefront is polished and clean, while the other store is covered in mold, graffiti and peeling paint. Which store would you give your business to?
Probably the clean store run by the owner with attention to detail. Now take a moment and think – what does the outside of your building look like? Does it look pristine and clean or could it use a polish?
You could be driving customers away, and your reputation may even be tarnished if your property isn't up to standards. Do you need a polish? Sounds like you're a good candidate for
pressure cleaning
.
Facts about Pressure Washing
Pressure washing is the best, most efficient way for you to ensure that the paint on the exterior of your building will last longer.
Having your property pressure washed once a year can extend the life of the paint on the exterior of your building by as much as three years.
It is much less expensive to pressure wash yearly than it is to repaint a building.
Pressure washing service regularly prevents dirt, mold, grime and mildew buildup from accelerating wood rot on the outside of your building.
Hardware stores do not sell pressure washers that are capable of performing at maximum efficiency for the purposes of commercial pressure washing. A professional unit can run for hours at regulated pressure settings for the best cleaning.
Commercial pressure washing companies like us can afford ably and effectively power wash your building, removing mildew, dirt, mold and grime using powerful commercial-grade pressure washers.
Pressure Wash Your Office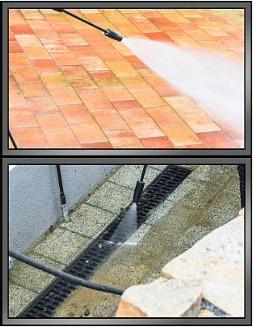 Throughout the day, office space is exposed to pollutants like dirt, dust and other toxins for the best part of the year. You do your best to regularly clean and maintain your office space, but a part of the dust escapes general cleaning methods. With time, it settles into areas difficult to reach and clean every day. If these stubborn stains aren't taken care of early enough, you're dealing with an uphill battle. It may be the space between the office tiles, the floor in the kitchen, parking lot or garage, exterior walls of your business or the designer tiles in the lobby – the deteriorated look caused by light oxidation, oil, pollution and other factors is terrible. Day to day cleaning doesn't own up to a deep, thorough cleaning because it's just addressing surfaces that are within easy reach. When we pressure wash we release a solution of water and detergent at a high pressure with top of the line equipment that weeds out dirt hidden in those spaces you just can't get to, giving your office a refined, executive look. That's why you need pressure wash cleaning.
Pressure Washing for Cleaning Concrete (How to*)
Concrete cleaning goes hand in hand with pressure washing. We perform this function with our cleaning machine that covers larger areas at a faster rate. This equipment cleans more accurately than the typical spray gun cleaning. That means that we finish and are off your premises without disrupting your routine. We use this technique for natural stone surfaces, brick pavers and other paved surfaces.
---
How to Clean Oil Stains off Concrete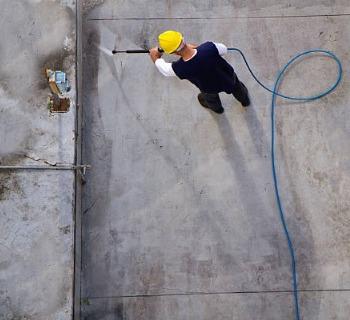 Oil stains can be difficult to remove. Can we remove the oil stains from your concrete? Removing oil with basic concrete cleaning depends on a number of factors:
How long has the oil been on the concrete?
Has anything been put on the stain already?
What type of oil is it?
How porous is the concrete?
Long term oil stains have had the time to set in the pores and dry. But they can be removed to the point where only a shadow of the oil stain is visible. We also recommend performing a full cleaning with pressure washer cleaner when removing an oil stain, rather than just cleaning the oil stain alone.
---
How to Clean Rust Stains From Concrete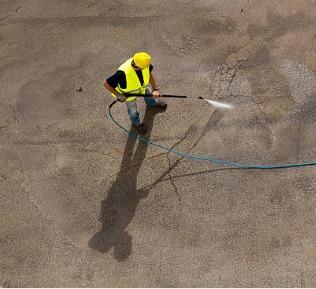 Rust stains are similar to oil stains – their removal depends on a number of factors.
What is the rust stain caused by?
How porous is the concrete that the stain can be found in?
We take these, and many other factors into consideration to determine what type of treatment is necessary. Fertilizer rust stains are more difficult to remove completely with a pressure washer. Granules are left on concrete from fertilizer. Sometimes these rust stains cannot be completely removed with concrete cleaning but they can be lightened to a faint shadow.
---
How to Clean Brick with Pressure Washer
Brick cleaning is fairly simple in most cases. Bricks, like concrete, can withstand higher amounts of pressure, making the removal of algae, mold, pollutants and other materials easier.
---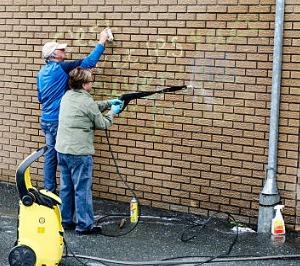 Going Green: Why Pressure Washing is Good for the Environment
Green Pressure Washing Advantages
Clean quickly: Pressure washing allows us to clean surfaces quickly, therefore using less energy and water than other techniques – including manual cleaning techniques. For example, when you clean a patio with a pressure washer, you use up to 75% less water than doing the same job with a garden hose.
Reduce the demand for natural resources: It's less expensive to clean a surface with a pressure washer than it is to replace it. When we clean and restore items in good shape, we reduce energy, waste, and the demand for natural resources that are used to make and ship the item that would have otherwise been cleaned.
Protect local watersheds: There are laws regarding wastewater that have been enacted to protect local watersheds and ecosystems. We do our part, working to reclaim wastewater to capture dirt, oils, grime, chemicals and other pollutants.
In Need of Pressure Washing Service?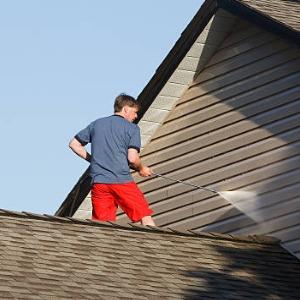 What to Avoid:
Most cleaning services in the area don't understand everything that you need to yield safe, quality results necessary to complete a project correctly.
Using these cleaners will get you some results, but none even close to the results you get when you work with us. Actually, using the wrong pressure washing can damage your property altogether. Most of the damages received are due to the fact that these other cleaners use high pressure chemical treatment when only low pressure is needed.
---
Here are some of the damages you can incur when you hire the wrong pressure washing company:
High pressure from an amateur pressure washer can break the seals on a dual window pane, resulting in windows in a constant foggy state.
Water damage can occur due to injection of water under shingles, through windows and doors and into walls.
Thanks to granules being stripped off and shingles ripped off from too high pressure, roof damage can occur.
Window screens can be torn, in addition to damage to wood, stucco and vinyl siding.
Be aware of non licensed companies without the correct insurance, or companies that use cheap cleaning chemicals and inferior methods.
---
What You'll Find With Interworld Cleaning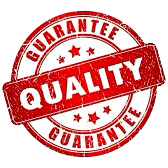 You'll find the latest techniques and procedures in pressure washing cleaning that we use that make us the top cleaning company in the area
The area's most experienced pressure washing company using innovative procedures
A pressure washing company that respects the need for safety
Knowledge of chemistry and years of hands on experience
Dedication and Accountability
When our projects are finished, we ensure that our clients are satisfied, walking the property with the client to determine if there is anything else that the client would like performed. We do everything we can to make sure 100% of our clients are satisfied. Our dedication to cleaning, and our clients is the highest possible, and we are constantly looking for better methods to create a clean environment. Finally, we are licensed, insured, bonded and have a track record as clean as we will make your building. It's no surprise we have a long list of satisfied clients who have endorsed our services and repeatedly trust us with their business premises – our quality has never disappointed them. If you are looking to get the maximum security deposit back from your property or impress clients we have the solution for you.
Convenience and Customization
We create fully customized solutions based on the needs of our clients, available for an extra fee.
We are flexible enough to work around your schedule, affecting your day to the minimum, if at all.
We understand high pressure cleaning can be damaging to property and take extra care to protect yours.
Are you a general contractor, property manager or a home builder? We're prepared to team up with you to offer you fully customizable, thorough, and professional service to our clients. Don't waste your time with undependable, unlicensed, uninsured cleaners. Pressure washing is potentially harmful to your property in the wrong hands.
Won't you let us care for your property?
Contact us today for a free, no obligation quote.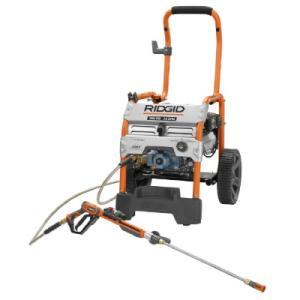 Office space is exposed to pollutants such as dirt, dust...
Read More